General news
Chieftaincy Ministry to give traditional rulers powers to operate- Chieftaincy Minister
Story: Hajia Asana Gordon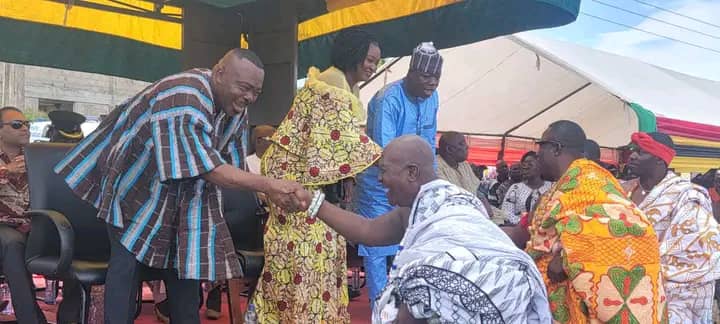 The Minister for Chieftaincy and Religious Affairs, Mr. Stephen Asamoah Boateng has hinted plans by his Ministry to amend parts of the Chieftaincy Act to allow traditional rulers to deal directly with their subjects, who flout rules and regulations.
"Traditional rulers must be given some powers or authority to operate in their various localities to bring back the respect given to the chieftaincy Institution",  he disclosed.
Mr. Asamoah Boateng vowed to transform the Chieftaincy Act to make it well attractive to help traditional rulers gain much respect from their subjects.
The Minister for Chieftaincy and Religious Affairs therefore highlighted the importance of traditional rulers in the development efforts of government and called for unity and team work to support the Chieftaincy Ministry.
Mr. Asamoah Boateng gave the hint at a durbar of Chiefs and People of the Effutu Traditional Area at Winneba to mark the celebration of this year's Aboakyir Festival.
This year's Aboakyir Festival was celebrated with the theme: "Your Participation Makes a Difference for Development".
Mr. Asamoah Boateng who was the Guest of Honour observed that the theme for the celebration was apt and charged the youth to reorient themselves to support the leadership of the country to bring about development.
Touching on the contribution of the traditional authorities in national development, Mr. Asamoah Boateng stressed the need for the country to reach a point "where local government becomes the focus of development and not central government".
He pledged to work with the appropriate state institutions to stop the encroachment and cattle grazing at the Winneba Ramsar site, which houses the sacred forest to protect the cultural heritage of the Effutu people.
The Paramount Chief of the Effutu Traditional Area, Neenyi Ghartey VII, expressed disappointment that  "human activities at the Ramsar site  pose a danger to the traditions of the Effutu people, who depend on the sacred forest for the catch to hold the festival annually".
Neenyi Ghartey appealed to the appropriate state institutions to be proactive in working to protect the forest to save the cultural values and traditions that bind the people together.
The Central Regional Minister, Mrs. Justina Marigold Assan popularly known as Central Gold praised the chiefs and people of Winneba for the peaceful organization and celebration of the 2023 Aboakyir Festival, a development, she said would boost investor confidence and bring more development to the area.
There were spontaneous scenes of joy and wild jubilations when the Tuafo Number One Asafo Company made the first appearance to present the first catch of a deer at the durbar grounds.
Prior to the presentation, the two Asafo companies (Tuafo and Dentsefo) embarked on a hunting expedition in search of a live deer from the sacred forest and presented the first catch to the "Oma Odefe" (Paramount Chief) at the durbar grounds for him to step on it three times as tradition demands.
Source: Gnewsprime.com