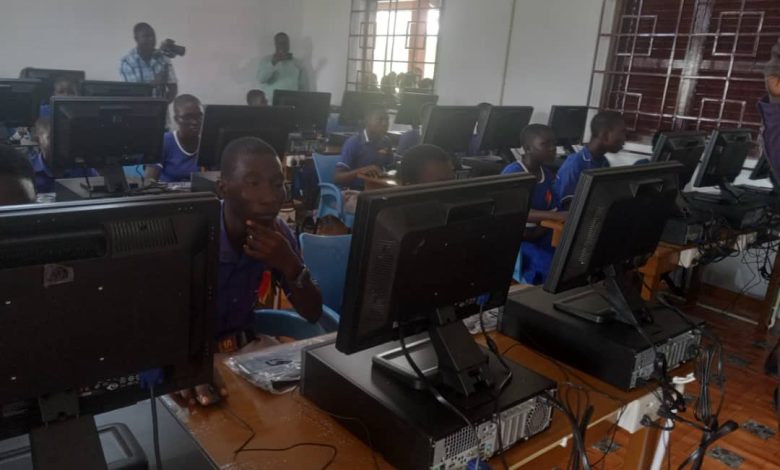 It was joy and excitement when the Head teacher of Dr. RP Baffour Elmina Anglican School, Mr. Godwin Fiagbedzi hit the dance floor to dance to show appreciation to donors, including the family of former Information Minister in the Mills-Mahama administration, Mr. Fritz Baffour, when he (Fritz Baffour) stormed the school to handover a newly constructed Information and Communication Technology(ICT) laboratory to the school.
The ultra modern ICT laboratory with 30 computers was  sponsored by Yvonne David, founder of pipins project, Nikia Richards and Niamani Knight of Stream global, Kwame Bowen of Newob Outreach and Papa Essilfie of IT Afro Connect who are past students of the School.
The donation was aimed at giving high quality education through the use of Information.
It was also to enhance the education standards of the beneficiary students.
"We are very much happy that we have gotten ICT lab because it would improve on teaching and learning. The school used to rely on paper and blackboard for computer lessons", Mr. Fiagbedzi said.
According to the Headteacher, "this is the first time the School is having an ICT laboratory so we appreciate the donors very much for presenting the school with ICT lab and I promise to keep the computers to good use".
He also saluted Baffour Foundation who also supported the school with financial resources to establish the ICT laboratory.
"ICT or computing is part of the curriculum but the school couldn't teach the students practical aspect and relied on paper or oral for the ICT class", Mr. Fiagbedzi disclosed.
He entreated parents and other stakeholders in education to stimulate students interest in the use of Information Technology(IT).
Mr. Fiagbedzi said "students must acquire the skills to make it easy to use the computers for their own research work".
"I strongly believe that the students will perform better on ICT in their final exam, since they have computers to study the practical ICT".
On his part, the former Member of Parliament for Ablekuma South Constituency who also doubles as a former Information Minister, Mr. Fritz Baffour was happy to see the school kids using computers for the first time.
"We came here to support this worthy initiative by a great citizen of Elmina who started from this School. The RP Baffour Foundation,  which I represent is going to do more for the school because this school was named after my great late father, Dr. Robert Patrick Baffour who was the son of Elmina", Mr. Baffour disclosed.
"The girl child who has been disadvantaged for a long time, this is your opportunity to rise above your comfort zone and live even more worthy than most men in this society", he added.
Gnewsprime.com