General news
Abura Dunkwa Chief ready to offer free land to University Authorities for extension
Story: Hajia Asana Gordon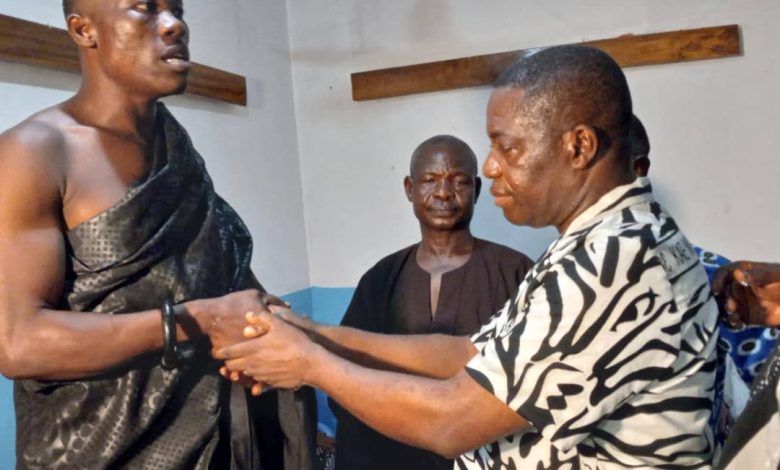 The Odikro of Abura Dunkwa in the Abura Asebu Kwamankese(AKK) District of the Central Region, Nana Asokwa Kwegyire III says he is ever ready to provide land for both international and Ghanaian University authorities for the extension of their centers in the area to boost education in Abura Dunkwa.
In addition to this, the Odikro again promised to provide free land to government, individuals and the private sector in particular to invest in the area to enhance the local economy.
"Abura Dunkwa is the oldest district in the Central Region but we cannot boast of even one training college or University nor a single factory", Nana Kwegyire fumed.
The Odikro dropped this hint when the chiefs and people of Abura Dunkwa Traditional Council enstooled the Guantoahene of the area with the stool name, Nana Asoku II, known in private life as Mr. Samuel Arthur, the General Manager in Charge of Finance Department at the Electricity Company of Ghana.
The Odikro who welcomed the new Chief said lack of basic infrastructure as well as other social amenities were hindering development in the area.
He called on the new chief to collaborate with him to transform Abura Dunkwa.
"Abura Dunkwa Traditional Council can no longer beg government to develop the area but we will advice ourselves", Nana Kwegyire revealed.
According to him, "Abura Dunkwa Traditional Council will never entertain any political party because we have been neglected interms of development projects as compared to other districts in the country".
Nana Kwegyire who was unhappy about the deplorable state of the Abura Dunkwa town roads which according to him posed danger said"both NDC and NPP have failed Abura Dunkwa".
On his part, the Newly enstooled Guantoahene, Nana Asoku II expressed his gratitude to his family for the trust they had in him to give him the opportunity to serve them as their Guantoahene and promised to work with the chiefs and people of Abura Dunkwa to develop the area.
Source: Gnewsprime.com