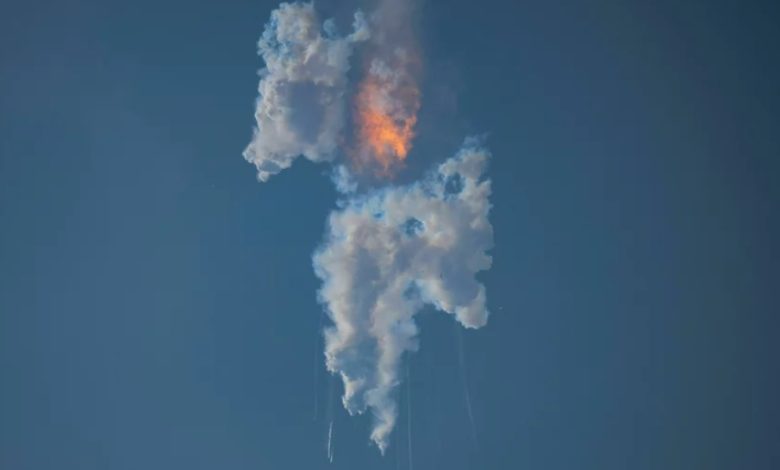 SpaceX's Starship rocket cleared its launch platform but failed to separate from its booster, exploding four minutes after liftoff during an inaugural test flight on Thursday.
The uncrewed spacecraft, which SpaceX says could one day facilitate multi-planetary life, thundered off the launch pad for what had been expected to be a 90-minute trip around the Earth before a splashdown near Hawaii.
But after reaching MaxQ, the rocket began to tumble tail over nose, 18 miles in the air. A minute later, it started to plummet before combusting entirely. A livestream of the launch appeared to show some of the 33 engines in the booster weren't firing.
"Starship just experienced what we call a rapid, unscheduled disassembly," said John Insprucker, SpaceX's principal integration engineer. "As we expected, excitement is guaranteed. Starship gave us a spectacular end to what was a relatively successful test flight so far."
SpaceX staff still cheered as Starship went down in flames. Successfully lifting the 400-foot-tall rocket off the launch pad is still a big step forward to its ultimate goal of one day ferrying humans to the moon and Mars, SpaceX says.
"With a test like this, success comes from what we learn," the company said in a tweet. "Today's test will help us improve Starship's reliability as SpaceX seeks to make life multi-planetary."
SpaceX says it expected the debris had fallen somewhere in the Gulf of Mexico, and it'll work with local authorities for recovery operations. SpaceX CEO Elon Musk says the team will try to test the rocket again in a few months.
NASA administrator Bill Nelson said he is already looking forward to seeing what the next launch could bring. "Every great achievement throughout history has demanded some level of calculated risk," he wrote in a Tweet. "Because with great risk comes great reward."
NASA has a vested interest in seeing Starship succeed: The agency is paying SpaceX to develop a reusable moon shuttle, though that mission is still likely several years away.
Source: npr.org