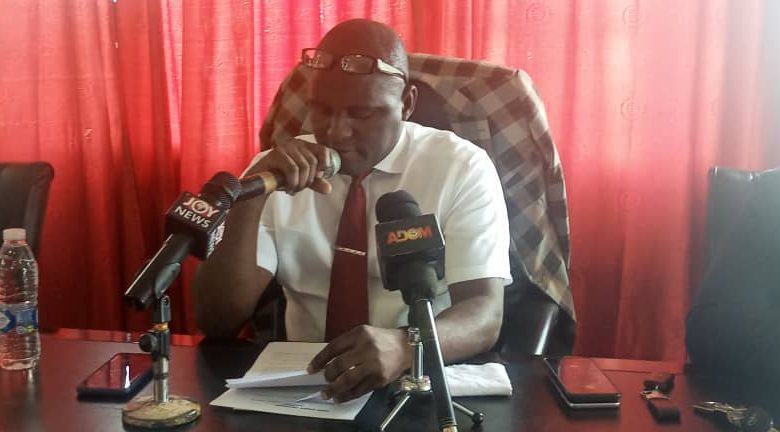 A section of the members of the Governing Council of the Cape Coast Technical University (CCTU) have rubbished statements by a group calling itself the concerned alumni of CCTU, calling for the removal of the Council Chairman, Prof Harold Amonoo-Kuofi, over alleged usurpation and conflict of interest among other issues.
The internal council members of CCTU stated in no uncertain terms that "the action by the group which appears to have been originated by some staff of the University is tantamount to bringing the name of the University into disrepute".
The Governing Council reiterated that "the press conference by the said concerned alumni, appeared to have been borne out of frustration by some disgruntled staff of CCTU who do not want to respect the dictates of the Technical University Act 922 (2016) as amended, just because of their failure to get the Council Chairman out of office, even before the reconstitution of the Governing Council".
In a statement read on behalf of the Council by Mr. Uriah Tetteh, a former member of the Governing Council of CCTU, the allegation that the Council Chairman had unilaterally kicked against decisions to speed up development and progress of the University was unfounded.
He stressed that no Council would halt a project being executed, having followed the due process.
"Per the Amendment Act of the Technical University (2018), Act 974, section 8, section 31 of Act 922 amended , A Technical University shall not acquire, hold moveable and immoveable property, sell, lease, mortgage or otherwise alienate or dispose of that property without the approval of the Minister for Education given in consultation with the national Council for Tertiary Education (now Ghana Tertiary Education Commission", the former Council member remarked.
CCTU alumni resist plan to appoint Professor from UCC as next VC
Mr Uriah Tetteh continued, that "It is absolutely true that the university lacks hostel accommodation and others. But one may question whether due processes were followed to start the projects being referred to or otherwise".
"After the dissolution of the Council and reconstitution thereof, discussions on the Hostel Project were revisited. The Governing Council never rejected the agreement to start the project. The bone of contention was on the protection of the interest of the University and government of Ghana at large. The Ministries of Education and Finance shared the same view with the Council, and therefore, raised various comments on the need to review the terms of the project".
On the Vice Chancellor position, Mr Tetteh disclosed that the position was not limited to only professors in the Cape Coast Technical University and that the allegation that the Council Chairman had planned to bring a Professor from UCC was irresponsible.
"The advert was prepared by the Registrar who is Secretary to Council and sent to Council Members for their scrutiny and approval before publication in the Daily Graphic. It is unthinkable for anyone to conjecture that the Council Chairman had falsified the requirement of the Vice-Chancellor's Search Committee".
Source: Gnewsprime.com