Business
General news
Eid- ul-Fitr: MTN gifts foodstuffs, airtime to Muslims in Takoradi
Story: GEORGINA APPIAH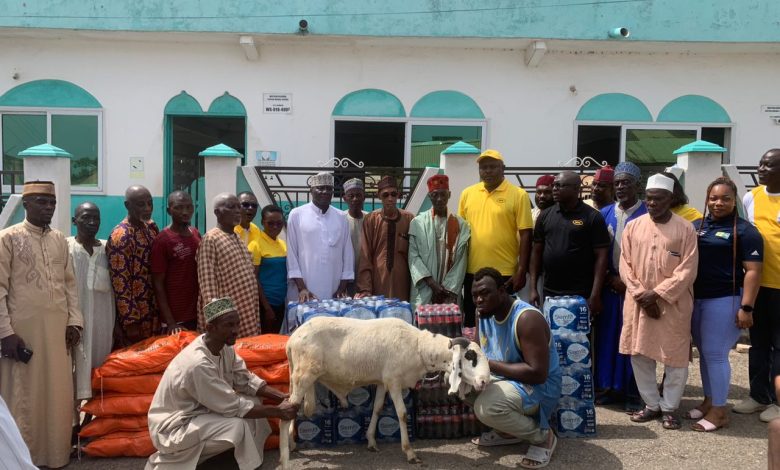 Eid ul-Fitr is an Islamic festival, which marks the end of Ramadan, the holy month of fasting.
Muslims across the globe feast with assorted food during the celebration.
As part of their contribution towards this year's festivities, MTN Ghana, the telecommunications gaint has donated assorted foodstuffs, including; bags of rice, packs of mineral water, packs of soft drinks, a ram and airtime among others to the muslim community in Takoradi in the Western Region of Ghana.
Presenting the items, the Acting Senior Manager for Southwest Business, David Woase indicated that, "MTN Ghana recognizes the important role that the Muslim community plays in Ghana, and we are committed to supporting you in meaningful ways".
"As a company, we are committed to supporting the growth and development of Ghana in various ways. We understand that supporting communities is an essential part of our corporate responsibility, and we take this responsibility seriously", he maintained.
Mr Woase hoped the gesture would help make the celebration a memorable one.
The SouthWest Acting Manager for MTN touched on the company's services and stated that "MTN will set up stands at vantage points to provide customers with an enhanced customer experience whilst they celebrate. Customers will be able to do their sim swap, 4G upgrade, and register for MoMo".
"In view of the ongoing SIM registration, all Mobile Network Operators have received a new directive from the NCA to remove all disconnected numbers from our database. Following the same directive, we will remove from our database all SIM cards that are registered after the limit of 10 per individual".
"We are using this platform to urge our customers who need to regularize their SIM cards to do so before they are removed from the database", Mr Woase announced.
The Secretary to the Office of the Western Regional Chief Imam,  Alhaji Iddrisu Zakariah, who received the items thanked MTN for the kind gesture.
Source: Gnewsprime.com