General news
Health
End stigmatization against persons living with Leprosy – Rev Father Vitus Mensah to the public
Story: Hajia Asana Gordon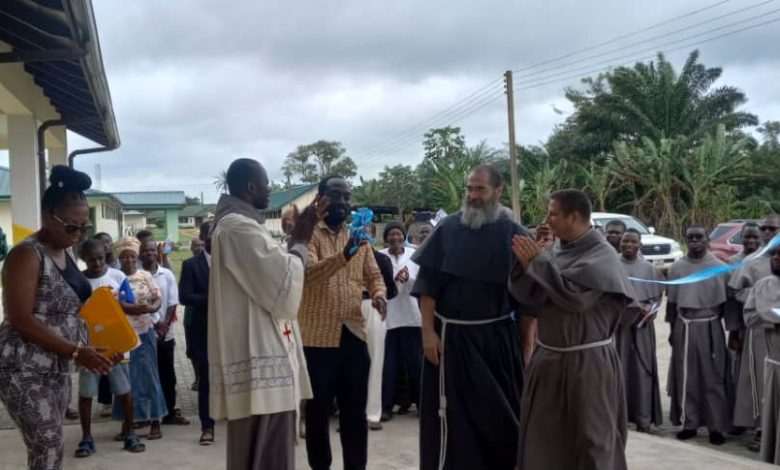 The President of the International Anti Leprosy Organization(IALO), Rev Father Vitus Edem Yao Mensah has called on the general public to end stigmatization against persons living with Leprosy.
"People affected by leprosy have continued to suffer stigmatization and discrimination. Thus if one suffers malaria and is cured and nobody refers to them as cured malaria patients or malarius then why are leprosy patients tagged and rejected by society due to their predicament?" Rev Father Vitus Mensah questioned.
The Rev Father  made the statement when a team from the International Anti Leprosy Organization visited the Ankaful Leprosy General Hospital to handover an ultra modern 12- bed capacity male ward built by the late Friar Giorgio to promote quality healthcare.
The male ward include 12 bed fully air-conditioned general ward, two air-conditioned private wards, six patients washrooms, staff changing room with washroom, two storerooms and detention area.
According to the Rev Father, "it is the primary responsibility of every government to provide for the citizens in terms of quality education and primary healthcare but since government alone cannot do this, the Catholic Church has always been partnering government to put smiles on the faces of the masses".
Rev Father Vitus Mensah assured that Leprosy was not a curse from the gods but tropical diseases that could be cured like any other disease.
He advised the general public especially victims not to wait until they were traced or disabled before reporting to the hospital but must look out for early signs, such as skin patches or loss of pigmentation, skin patches with diminished or absent sensations, numbness or tingling in the hands, feet, arms and legs, painless wounds or burns on the hands and feet and muscles.
On his part, the Specialist in-charge of Ankaful Leprosy and General Hospital, Dr. Benedict Okoe Quao thanked the International Anti Leprosy Organization and the late Friar Giorgio Abraham for their efforts of strengthening the general healthcare provision within the hospital.
Gnewsprime.com