General news
Stop speaking ill of teachers, if you can't pay appreciable salary – University Don to government
Story: Hajia Asana Gordon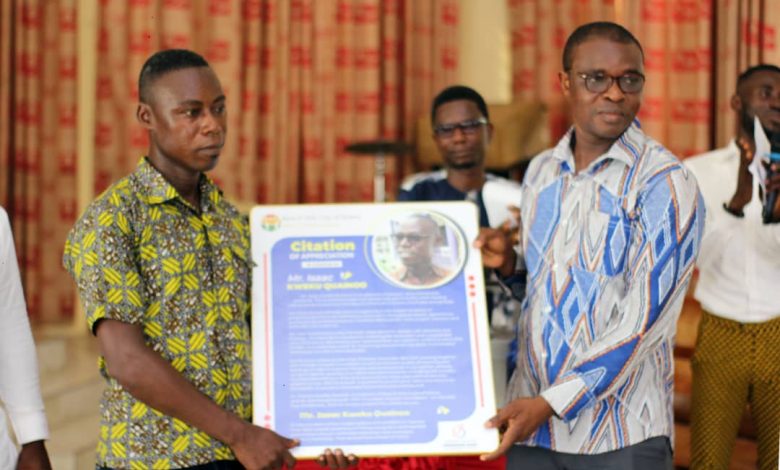 A Senior Lecturer at the University of Cape Coast(UCC) Department of English, Dr. Samuel Kwesi Nkansah has chided the government "to stop speaking ill of teachers, if it could not pay them any appreciable salary".
"Teachers must be respected, honored and regarded by the government as well as the Minister of Education and must be seen as an important element in our socio-economic development and that we should not put the teachers aside and walk over them", Dr. Kwesi Nkansah fumed.
Dr. Kwesi Nkansah expressed sadness about the way teachers were relegated to the background, citing that, "let teachers feel important and they will deliver because you cannot disrespect teachers and expect them to deliver for the country".
Dr. Kwesi Nkansah who was a guest speaker at the teachers prize 2022 awards ceremony organized and financed by Kobbah Acquah Foundation(KoAF) in collaboration with Boys and Girls Club, Ghana Anomabo(BGCGA) again appealed to the government to declare 5th October, a day set aside to celebrate teachers, as a public holiday for teachers.
"If the government wants to show respect to teachers then October 5 must be a public holiday for teachers", the University Don stated.
On his part, the Founder of KoAF Foundation, Mr. Emmanuel Acquah who spoke on the theme; "Motivating Teachers to Improve Teaching and Learning: The Role of Stakeholders", said his Foundation's biggest priority was to promote and support the highest quality of teaching and learning in the Mfantseman Municipality and Ghana as whole.
Mr. Acquah observed that teachers play a crucial role in building brighter future for pupils, which was the core objective of the foundation.
The KoAF Foundation awarded six teachers with the most outstanding teacher in 2022 receiving 12, 000 cedis whilst the 1st runner up received 10,000 and 2nd runner up,  8,000.
The most outstanding teacher in Junior High School also received GHC 5,000 and outstanding upper primary teacher also grabbed GHC 5,000. Lower primary most outstanding teacher went home with 5,000 cedis.
There were complimentary prizes for seven teachers who made it to last 13 shortlisted finalists and they also received 1,000 cedis each.
Mr. Ebenezer Kojo Otoo, 2021 Ghana's Most Outstanding Teacher who led the interview Panellists to select the awardees saluted KoAF Foundation for the initiative.
Source: Gnewsprime.com