General news
Health
Ekow Ewusi saves life of man, calls on the public to go for regular check-up
Story: Hajia Asana Gordon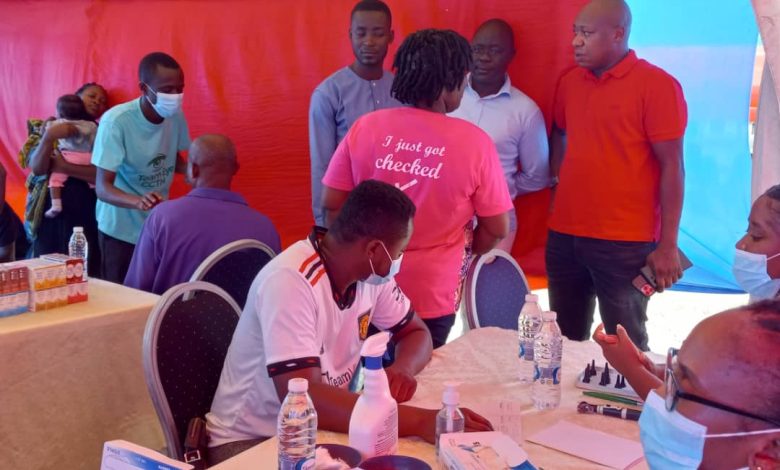 A health screening exercise, organized by the Ekow Ewusi Foundation for the people of Pedu and Duakor in the Cape Coast North constituency, saved the life of a gentleman who took part in the exercise.
He was quickly rushed to the Cape Coast Teaching Hospital (CCTH), after health officials found out that his Blood Pressure (BP) was too high.
The Founder of the Ekow Ewusi Foundation, Mr. Horace Ekow Ewusi, who spoke to the media shortly after the exercise, encouraged the general public "to take advantage of the numerous clinics and hospitals in the country and go for regular medical check-up and not to wait to fall sick before being rushed to the hospital".
"My advice to the general public is that, they shouldn't wait till they cannot walk or something happens before they go to the hospital but they need to be doing regular check-ups because there are so many diseases and other health issues that could be prevented, if early medical assistance is sought", Mr. Ekow Ewusi observed.
The health screening exercise which was fully funded by Mr. Ekow Ewusi and organized in collaboration with the Ghana Registered Nurses and Midwives Association, saw more than 500 people, including children and the aged being screened for various diseases.
Mr. Ekow Ewusi stated that the exercise was targeted at providing an opportunity for people, especially those who could not afford frequent medical check-ups due to financial constraints, to have access to medical care, despite the existence of the National Health Insurance Scheme(NHIS).
The Secretary of the Ghana Registered Nurses and Midwives Association of the Cape Coast Teaching Hospital, Mr. Samuel Ofosu Apomsah was happy about the turnout and the excitement of the participants.
Many of the beneficiaries were referred to the CCTH.
Some of the beneficiaries who spoke to the Mynewsgh.com reporter, Hajia Asana Gordon expressed their gratitude to Ekow Ewusi Foundation for organising the exercise to improve the health of the people.
Source: Gnewsprime.com