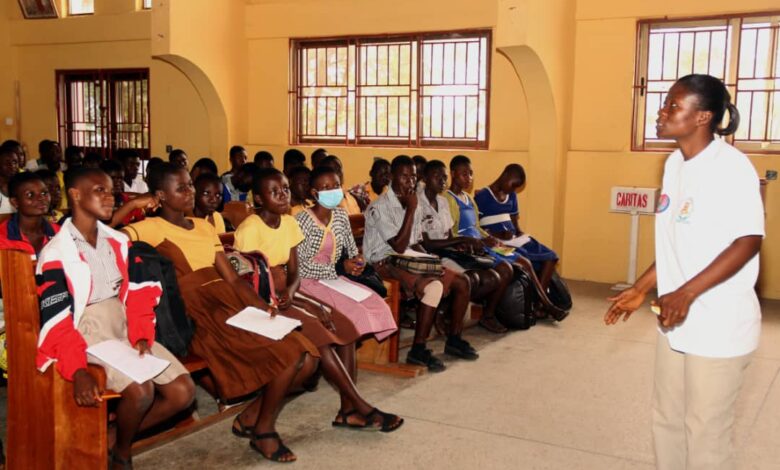 A Mental Health Officer with the Ghana Health Service, madam Mabel Adadzewa Dontwi has charged final year pupils to desist from any activity that would bring depression and stress on them.
This according to her will help them to concentrate when studying. "The only thing you should be thinking about is your books and not a fiancé because they all bring depression and stress. Yes, we are in August and we know festivals are all over but please know that there is a task ahead of you, you need free and healthy mind to study so free the mind", she advised.
The health officer was addressing a section of final year pupils from Junior High Schools (JHS) in the Mfantsiman Municipality at Anomabo during a seminar organized by Boys and Girls Club of Ghana (BGCG) for the pupils in the area.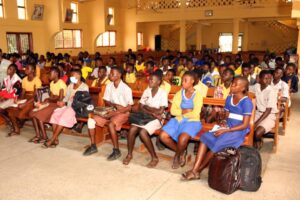 The seminar was on the topic "Stress management; A Recipe To Pass Examination".
The weekly seminars are part of events the Club has embarked on to assist the pupils in the area in order to aid them pass the Basic Education Certificate Examination (BECE) expected to be conducted in October 2022.
According to the Executive Director of the Club, Mr Kweku Quainoo, there are a number of resource persons the club intends to engage to orient the pupils until school reopens.
"As we speak, we've organized vacation classes for the pupils and we have decided to, after the first period on Fridays, use the remaining time for seminars where we invite resource persons such as counselors, nurses, examiners, psychologists and scholars to talk to them", he explained.
Miss Patricia Quainoo and Miss Ethel Yayra Ocran, both student nurses at the Winneba College of Community Health Nurse, were present to share their personal experiences to encourage the beneficiary pupils.
Miss Quainoo advised pupils who were staying with relatives other than their real parents and for that matter being maltreated to overlook the ordeals and rather pursue their goals.
"We've all been through such situations before but because we had a goal, we just endured and now here we are. At times food to eat to school becomes a problem but in all,  you have to know that God has plans for you. You won't stay there forever so please just focus and pursue your goal", Miss Quainoo encouraged.
Source: Gnewsprime.com/Kojo Ata Kakrah Abrowah (KAKA) // anthonyabrowah@gmail.com
Photo credit: IkeKuQ photos