General news
Politics
I have the cash to win KEEA seat- NPP aspirant boasts
Story: Hajia Asana Gordon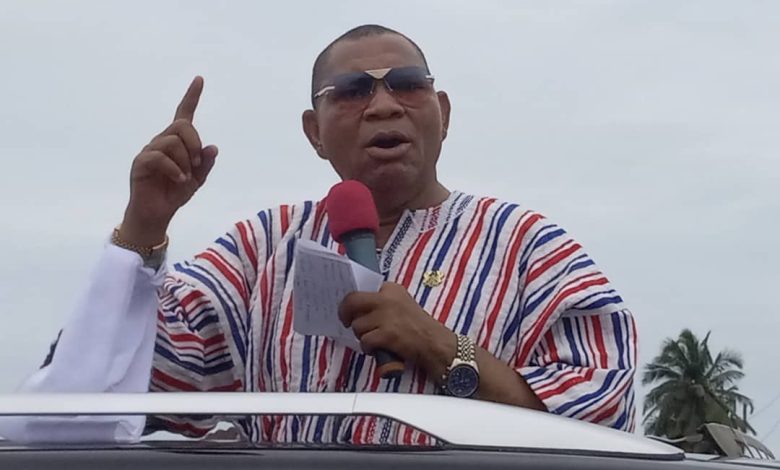 The Aspiring parliamentary candidate for the Komenda-Edina-Eguafo-Abrem(KEEA) constituency on the ticket of the ruling New Patriotic Party(NPP), Mr. Ebenezer Agyeman Kessie has disclosed he intends influencing the delegates in the constituency with cash to win the NPP parliamentary primary and subsequently the parliamentary seat.
Mr. Agyeman Kessie who is widely known as 'Agyengo Train', outlined his vision for the Komenda-Edina-Eguafo-Abrem constituency including improving the fishing industry, farming, healthcare delivery and education. Indicating that "above all, I have the cash to win the seat".
Addressing delegates after submitting his nomination forms which was marked by a float by his supporters, Mr Agyeman Kissie disclosed that his decision to contest the NPP parliamentary primary in the area was to give the incumbent Member of Parliament NDC's Mr. Samuel Atta-Mills a hot chase.
The first time NPP aspirant for KEEA, said he was optimistic to recapture the lost KEEA parliamentary seat for the NPP.
Mr. Agyeman Kessie is aiming at winning 70% of the valid votes cast during the primary.
He said he was the best to represent the aspirations of the electorate of KEEA in the next parliament.
"I'm  mad at the incumbent MP for KEEA, Atta Mills but not those who am contesting with ahead of the NPP parliamentary primaries", he revealed.
"For the past 12 years, NPP has never won Komenda-Edina-Eguafo-Abrem seat so I want to set a record in KEEA by removing the NDC MP from the seat",   Mr. Agyeman Kessie stated.
The KEEA constituency has traditionally been an NDC seat since 1992, until 2004, when Dr. Nduom won it on the ticket of the Convention People's Party (CPP).
His win was made possible because of his affiliation with the New Patriotic Party (NPP), led by Ex-president John Kufour, for which reason the party refused to put forward a candidate.
Dr. Nduom left the seat to contest as a presidential candidate in 2008 on the CPP's ticket.
The seat thus fell back to the NDC with Dr. James .S. Annan as the MP.
However, due to an internal division that saw an Independent Candidate, late Dr. Ato Quarshie emerging from the NDC, the party lost the seat to the NPP for the first time, with the former MP Dr. Steven Nana Ato Arthur winning the seat.
Gnewsprime.com