Business
Dr Tinashe Manzungu honoured by Europe and America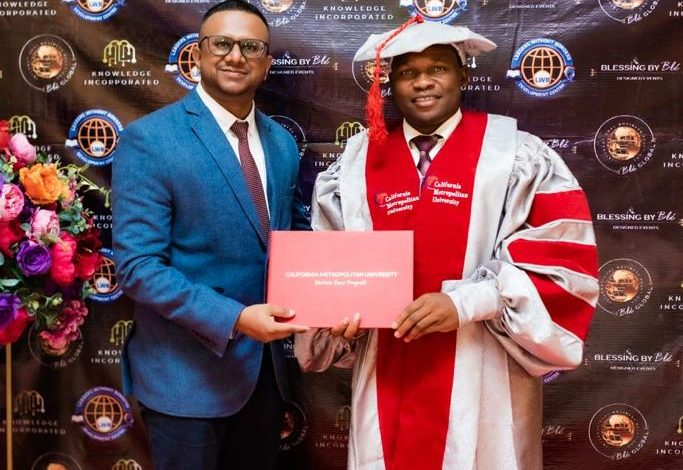 Zimbabwean business tycoon who is also a Board Director at the Africa Business Council, Dr Tinashe Manzungu has been honoured by the California Metropolitan University with a PHD in Business Administration.
The honorary doctorate degree was in recognition of his contribution to the business industry globally.
Manzungu, a former president of the Zimbabwe National Chamber of Commerce, received the honour at the recently ended London Leaders Without Boarders Annual Business Summit where he was a Guest Speaker.
In his statement, Manzungu expressed his pleasure for the California University's gesture, adding that it was a great honour to receive such a global recognition.
"I was honoured by California University for the tremendous strides we are putting forward in both our own businesses, my country, Zimbabwe and the African continent. It is such a great pleasure to be capped by the president of California Metropolitan University with a PHD in Business Administration. (With special recognition to Leadership and management)," he said.
The Leaders Without Boarders Annual Business Summit was held from the 17th to the 19th of May under the theme; "Global Partnerships and Sustainable Investments."
It was attended by high level achieving professionals and diplomats from Africa, USA, Europe, The Middle East, India and China.
It was also graced by world leaders and ministers representing different countries such as Ghana, Mozambique, Mauritius, Dubai, Equatorial Guinea and Nigeria among others.
Manzungu was a Guest speaker representing the Africa Business Council and he spoke on Innovations and Productivity as drivers of sustainable economic and social development.
"The platform on which I spoke was an opportunity to market Zimbabwe and Africa at large, so that the world will know that Africa has a lot of opportunities to create sustainable investments and commercial success," said Manzungu.
In his speech, he invited the first world countries "to work with African countries which are mostly emerging economies that have owned 2030 economic targets".
"Africa Continental Free Trade Area has a 1.3 million GDP potential", hence, he also invited the globe "to work together with Africa and invest financially in Infrastructure Development as well as mining in keys areas such as Gold, Lithium and Diamond since we have the reserves".
Dr Tinashe Manzungu said a lot of countries expressed interest and currently in discussion on having meetings to that effect.
"During the meeting, MOUs were signed between African and European countries and both parties are looking forward to fruitful engagements in their implementation".
The London Leaders Without Boarders Annual Business Summit also saw the establishment of a platform for European companies to invest in sustainable infrastructure projects in Africa.
Manzungu added, "We are happy with the emergence of the Africa Real Estate Association AREA. Through this platform, it has been agreed to create a platform where the companies from Europe can invest, leveraging on the strong African infrastructure grouping. To them it means less risk. The platform was created by Zimbabwe, Nigeria, Ghana, and Mozambique as key players of this association. As Zimbabwe is one of the cofounders, we look forward to seeing more infrastructure projects implemented because of this new big African project."
Dr Tinashe Manzungu is a major contractor in Infrastructure development Projects , he is involved in Mega Civil and building Construction projects in southern Africa.