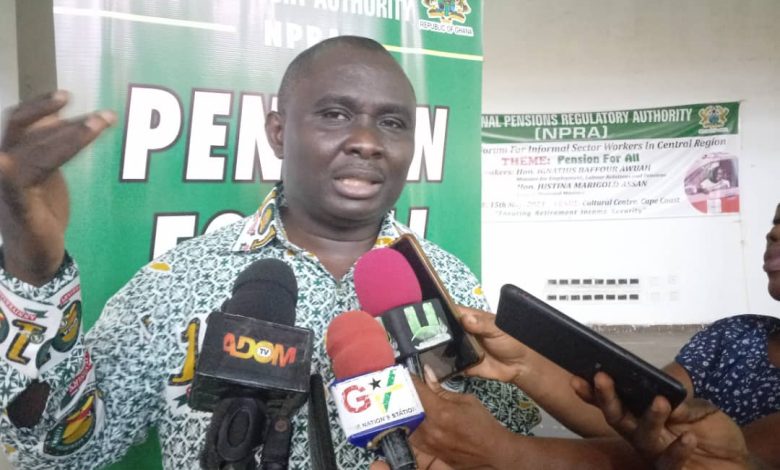 The Director of Standards and Compliance of the National Pensions Regulatory Authority (NPRA), Mr. John Mbroh has announced NPRA's readiness to alleviate poverty in old-age through the Personal Pension Scheme.
"This will enable people to live a decent life and improve their living standards at old-age".
"I hope that we deal with poverty in old-age through pensions so that people will not curse their children for not taking care of them, when they are in need",  Mr. Mbroh disclosed.
He was speaking during a sensitization forum for informal workers in Central Region with an aim to encourage both formal and informal sector workers to join and actively participate in pension schemes to help alleviate poverty after retirement.
It was held on the theme; "Pension for All", and attracted a number of workers and traders including market women.
"It is a personal decision that you need to make to actually put something down so that when you are old, you will be able to get something without relying on people. It doesn't matter how much you can start with. Whatever you put in is invested and you get something at the end of the period", Mr. Mbroh explained.
According to him, "the Personal Pension Scheme provides a secured and regular source of income for contributors on retirement, thereby making them financially independent".
On his part, the Chief Executive Officer(CEO) of NPRA, Mr. Hayford Attah Krufi said NPRA was making good progress and that about one million new members had signed up to the pension scheme.
He appealed to all Ghanaians who in the past had no access to any pension scheme to make a little contribution to enhance their pension benefits.
Mr. Attah Krufi assured contributors of the safety of the funds as the pension regulator continuously monitor and supervise the activities of the trustees and other service providers on the management of the scheme.
Source: Gnewsprime.com