Business
Fisheries commission eliminates illegalities in sale of premix fuel
Story: Hajia Asana Gordon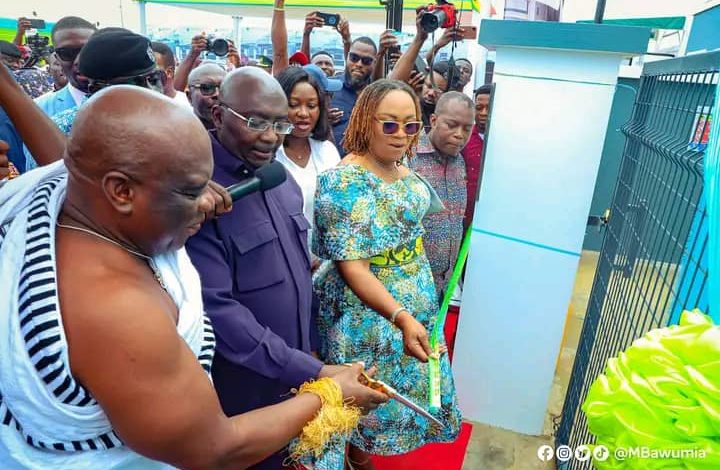 The Ministery of Fisheries and Aquaculture Development has commissioned an ultra modern premix fuel automation project at Elmina to eliminate illegality in the sale of premix fuel.
It is also to enhance efficiency and transparency in the distribution and sale of premix fuel.
Commissioning the project, the Minister for Fisheries and Aquaculture Development, Mavis Hawa Koomson explained that the introduction of the premix fuel automation would ensure a fair and transparent distribution of premix fuel to fishermen in both inland and marine fishing communities.
"The outlets are equipped with smart card readers that allow fishers to purchase premix fuel using their biometric identification cards and We must all work together to ensure that these outlets are used properly and that they serve their intended purpose", the Minister stated.
"The system would also eliminate the middlemen and prevent the diversion of fuel", she stressed.
Madam Hawa Koomson who double as the Member of Parliament(MP) for Awutu Senya East Constituency urged all fishers to take advantage of these outlets and use them responsibly.
She expressed concern about fishermen's major challenges in the fishing industry, in the area of access, distribution and sale of premix fuel.
This, she explained has resulted in fishermen buying premix fuel at very high prices.
"These challenges undermine the objective of the Government subsidy on premix fuel as few individuals take advantage of the defects in the distribution chain, to enrich themselves at the disadvantage of the fishermen", Madam Hawa Koomson complained.
The Chief Fisherman of Elmina, Nana Badu applauded the Ministry of Fisheries And Aquaculture Development for their commitment to address the challenges associated with the allocation, distribution and sale of premix fuel.
He therefore called for regular supply of premix fuel to the fishermen in Elmina to boost the fishing industry in the area.
The Vice President of the Republic of Ghana, Dr. Mahamudu Bawumia reiterated that the Automated Premix Fuel Dispensing and Monitoring System would eliminate the corruption, diversion and other bottlenecks associated with the supply and distribution of premix fuel, "ushering in an era of efficiency, transparency and accountability".
"With the launch of this system, the fisherfolk can now directly access the quantity of premix fuel they require at the pumps, using their personalized Canoe Identification Cards containing their bio-and other data and linked to their vessels, instead of relying on middlemen and other interlocutors for supplies", Dr. Bawumia lamented.
Gnewsprime.com