General news
Yutong bus burnt beyond Recognition at Assin Kyekyewere
Story: Kwame Owusu Asante Shadrack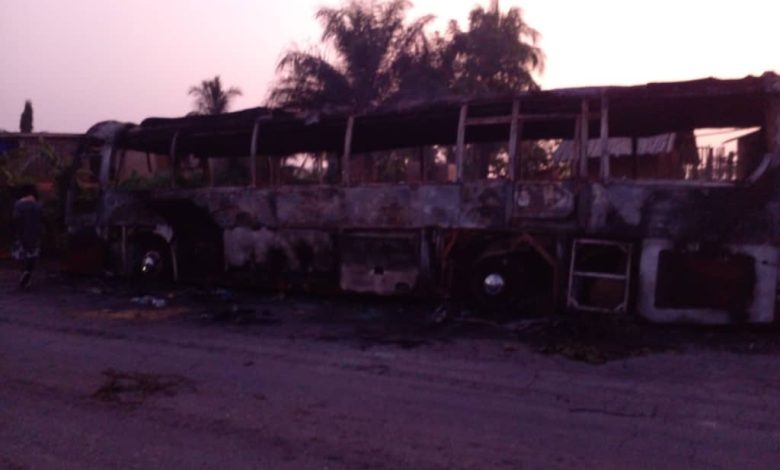 A Yutong bus with registration number GT-5333-20 with 45 passengers on board travelling from Takoradi towards Kumasi direction got burnt,  after smoke started billowing from the rear side of the vehicle.
The sad incident occurred on Thursday, April 13, 2023, around 2:30 am.
According to some of the passengers who spoke to Angel Fm's Shadrack Owusu Asante, on reaching a section of the road at Assin Kyekyewere on the Cape Coast Assin Fosu Highway, they noticed a smoke billowing from the rear portion of the vehicle.
"The driver then parked the vehicle on the shoulders of the road and opened the boot area and realized the engine was the source of the smoke but in an attempt to douse it with fire extinguisher, the bus was suddenly engulfed in flames and got burned beyond recognition".
Although all passengers escaped unhurt, properties worth thousands of Ghana Cedis were consumed by the fire.
Among the items included laptops, mobile phones, and travel bags.
Personnel of the Ghana National Fire Service from Abura Dunkwa fire station quickly responded to a call to douse the fire but by the time they got there, the vehicle had already burned.
According to the District Fire Officer of Abura Dunkwa, DOIII Wisdom Yao Gogovi, efforts were underway to tow the vehicle from the scene, and also ascertain the cause of the fire.
He used the opportunity to advise drivers to acquire appropriate weight and functioning fire extinguishers and keep them within reach for quick access in case of fire threat.
Source: Gnewsprime.com