General news
Politics
Alan Cash withdraws from NPP flagbearer race: Read Full Statement
Story: GEORGINA APPIAH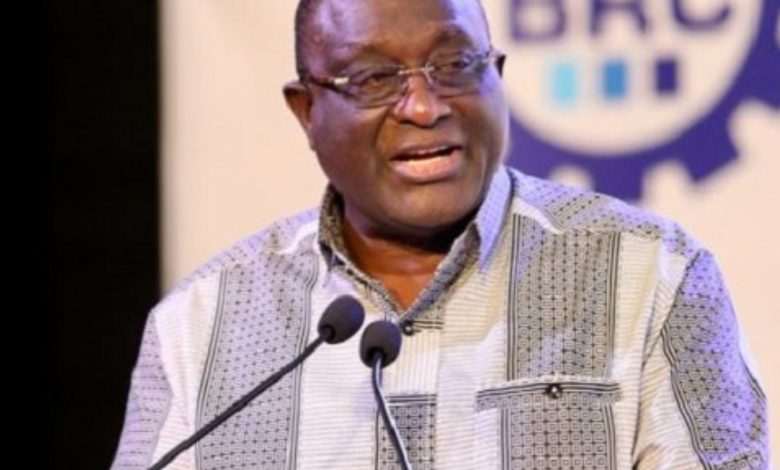 One of the aspiring Presidential candidates for the New Patriotic Party, Alan Kwadwo Kyerematen has announced his withdrawal from the presidential race.
The announcement was contained in a press statement released on Tuesday, 5th September, 2023.
Mr Kyeremanten placed third (3rd) in the just held super delegates conference organized by the party to select the top five aspiring candidates prior to the November National conference of the party.
Mr Kyerematen stated that, "the question I keep asking myself is, "How did we get here as a Party in the first place, and how far are we prepared to tread on this dangerous path to self-destruction?"
"In light of the foregoing, I wish to confirm that I am honourably withdrawing from the process that will lead to the Presidential Primaries to be held on the 4th of November 2023. In the next upcoming weeks, I will provide an indication of the role that I will play in politics in Ghana".
"I wish all the other Aspirants well as they continue on their journey. I also wish to use this opportunity to express my profound gratitude once again to my family, the Alan 4 President (A4P) Campaign Team, and all my teeming supporters in Ghana and from around the world, who have supported me in diverse ways over the years. Please be assured that the battle is still the Lord's, and that those who wait upon the Lord shall have their strength renewed", Mr Kyeremanten underscored.
Read full statement….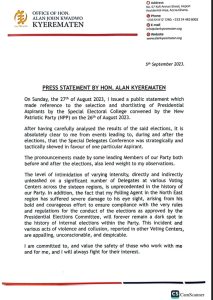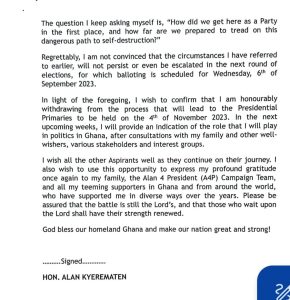 Gnewsprime.com