General news
Politics
Thugs allegedly attack Aspiring NDC Parliamentary Candidate for AAK, Nana Ama Browne Klutse
Story: GEORGINA APPIAH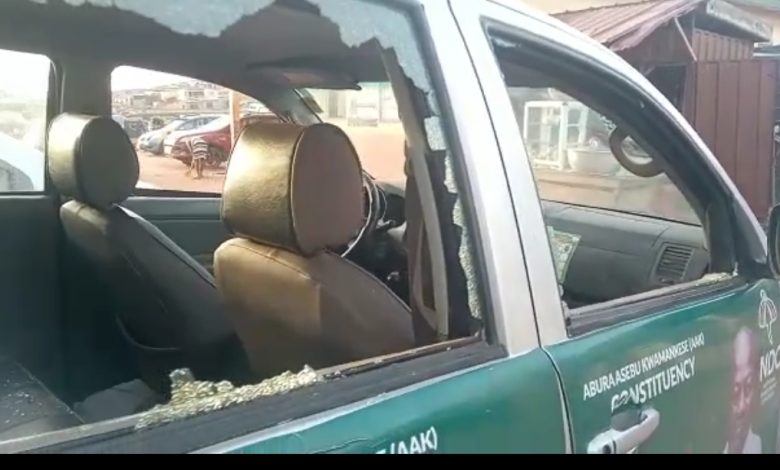 Thugs suspected to be supporters of Felix Ofosu Kwakye, an aspiring NDC Parliamentary candidate for AAK constituency, on Thursday 4th May, 2023 allegedly destroyed one of the vehicles belonging to Professor Nana Ama Browne Klutse, also an aspiring NDC parliamentary candidate for the  constituency.
The attack was said to be politically motivated.
The campaign coordinator, for the Professor, Dr Patrick Essien in an interview with Gnewsprime.com revealed that the incident happened when they were in a meeting with some delegates in Moree.
"We were having a meeting with some of the delegates in a house at Moree so the cars were packed outside and all of a sudden we heard that they were pelting stones at the cars", Dr Patrick Essien told Gnewsprime.com's Georgina Appiah.
One of the cars got destroyed in the process.
"We heard some of them saying they wanted to attack Professor Klutse".
What was their reason? "We didn't know the reason why they behaved in that manner but I heard they said Joseph Yamin was in the constituency to campaign for Prof and they didn't like it", he lamented
Do you know them as Ofosu Kwakye's supporters? "Yes, we are in the same constituency so we know each other", Dr Patrick Essien disclosed to Gnewsprime.com.
The attackers were later arrested and the matter reported to the police for further investigations.
"I have no hand in the alleged attack on Professor Browne Klutse"- Ofosu Kwakye
Source: Gnewsprime.com