Education
General news
Female SHS graduate who took part in NSMQ works in drinking spot, can't go to university
Source: pulse.com.gh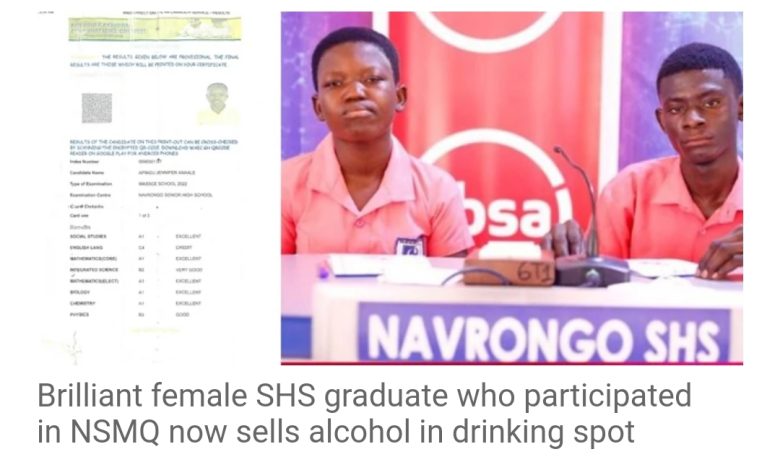 Jennifer Anaale Apingu, a brilliant graduate of the Navrongo Senior High School who represented her school in the 2021 edition of the National Science and Maths Quiz (NSMQ), has now become an alcohol retailer in a drinking shop to survive although she passed her West Africa Senior Secondary Certificate Examination (WASSCE) well.
Renowned investigative journalist, Manasseh Azure Awuni brought her plight to public attention on his birthday, seeking help for her to realise her dream of proceeding to the university.
According to him, Jennifer worked as a head potter in the Ejisu market to fund her education up to the Senior High School level, and despite scoring 5As, 2Bs and 1C, she is handicapped and can't afford to go to the university.
"If you ever bought goods at the Ejisu market in early 2021, it is possible this young girl was the head porter (kayayo who helped you carry your load to your vehicle or destination. That's the work she did to support her education in senior high school and still made the grades you see in this picture.
"Jennifer Anaale Apingu is an exceptionally brilliant girl who is currently working at a drinking spot in Navrongo to survive. Her chances of going to school are slim despite her great academic performance," Manasseh wrote on Facebook on Thursday, July 27, 2023.
He added that Jennifer has applied to the Kwame Nkrumah University of Science and Technology (KNUST) and University of Development Studies (UDS), but her chances of successfully enrolling even if any of the institutions grant her admission look bleak due to the lack of financial support.
Manasseh's appeal for help has got many Ghanaians reacting, with some pledging to help in their little ways, while others call on benevolent nongovernmental organisations and governmental organisations to come to the aid of the brilliant but needy student.
Pulse.com.gh