Entertainment
General news
Meet All Seven Of Steve Harvey's Kids
FROM HIS OLDEST TWINS TO THE BOYS OF THE FAMILY, AND, OF COURSE, LORI, THESE INDIVIDUALS MAKE UP THE HARVEY BROOD UNDER PARENTS STEVE AND MARJORIE.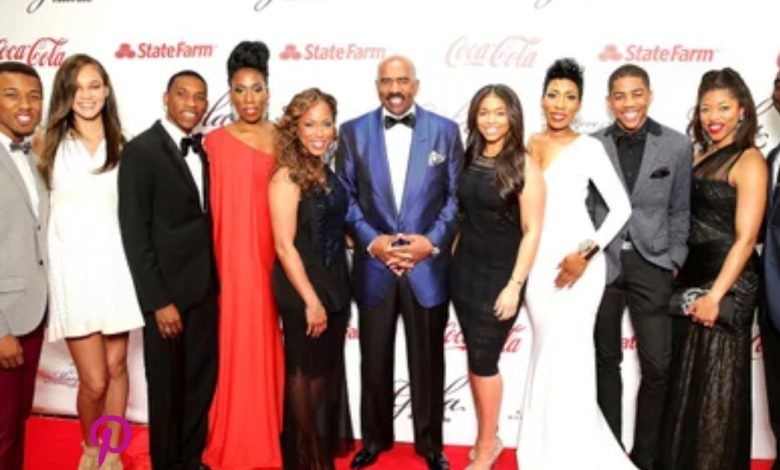 BY VICTORIA UWUMAROGIE
In a recent interview with Shannon Sharpe on the sports commentator's podcast, Steve Harvey opened up about his complex blended family.
He openly shared that not everyone was on board with him marrying wife Marjorie in the beginning of their relationship becoming serious, and that certain parties aren't as close as they could be.
But the family has made it work! They take trips together, celebrate holidays and support the head of their family in his many successful endeavors. You love to see it.
With all that known, you might be wondering, who are the kids that make up the Harvey brood? Sure, you know Lori, and perhaps you're acquainted with the eldest twins.
For those who need a quick family tree refresher course, here are the seven children, biological and through marriage, who Steve Harvey calls his own.
Brandi Harvey
Brandi is the founder of Beyond Her, aiming "to bring active wellness to women of color in collaborative and transformative ways to elevate the mind, body and spirit." She is also a host of the digital space Vault Empowers by Steve Harvey, which is said to be "your one-stop-destination for the inspiration and motivation you need to keep elevating."
She was born out of Steve's marriage to Marcia Harvey.
Brandi's twin sister, Karli, is an insurance agency owner who has teamed up with her sis to do the event Twin Talk Live. She's also a wife and mother! She's married to entrepreneur Ben Raymond and they share a son named Benjamin Raymond.
Broderick Harvey, Jr.
Steve's youngest child from his first marriage to Marcia Harvey is also his namesake (Stephen is the Family Feud host's middle name). He too works in the entertainment industry, acting as a production assistant at one point for The Steve Harvey Show. He's also a producer of Family Feud editions in Ghana and South Africa and is the founder of a company called HarvHouse.
Wynton Harvey
In addition to being a talented photographer, Wynton Harvey is also quite the stylish man like his father. If you peruse through his Instagram account, you can see him decked out in a variety of chic threads. From a thobe in Abu Dhabi to wide-legged pants paired with suit jackets, he cleans up nicely. Wynton is Steve's only child from his marriage to Mary Shackelford.
Morgan Hawthorne
The second oldest behind Brandi and Karli, Morgan is a graduate of the Culinary Institute of America, an author, and the brains behind the foodie brand I Need Some Mo. She's also a wife and mother — and a beauty like her mother, Marjorie.
Jason Harvey
His mother's twin, Jason Harvey too likes fashion. He's the founder of the creative fashion house Worldly, which launched in 2022. He previously designed sneakers and is a husband and father. He told The Atlanta-Journal Constitution of Steve entering his life when he was a teenager, "It's always nice when you have someone who doesn't mind to step in and take on blended families."
Lori Harvey
And of course, there's the youngest of the bunch, but perhaps, the most recognizable of all these days. While she makes headlines for her dating life, presently boo'd up with actor Damson Idris, Lori means business! In addition to being a model, she started her skincare line SKN by LH in 2021 and is a socialite of sorts, a regular at major industry events.
Source: essence.com