General news
'Create innovations to reduce unemployment'- Vice Chancellor to Retirees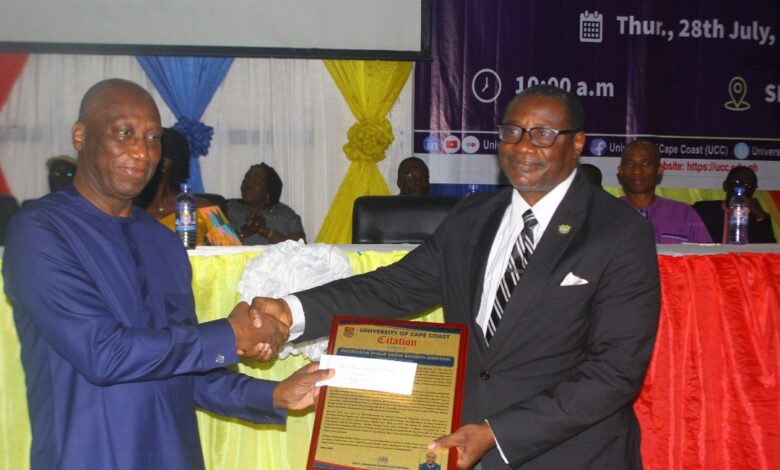 The Pro Vice Chancellor of the University of Cape Coast (UCC), Prof Rosemond Boohene has called on pensioners to create an entrepreneur and innovation mindset even in their retired age to contribute towards the country's bid to reduce the unemployment situation.
At the University's send off and long service awards ceremony, the Pro Vice Chancellor expressed shock about how strong and fit retirees were despite being over 60 years of age, citing that, "indeed age is really just a number".
The retirees whose service period spanned between 10 to 42 years were given citations and various prizes including set of room furniture, refrigerators, television and undisclosed amount of money.
The University honoured 93 members of staff who retired from active service at the University including, 23 Senior members, 35 senior staff and 35 junior staff.
Prof Boohene lamented that the major criteria for determining the value of the award given to retirees had been the length of service.
She assured that management of the University would continue to access other avenues to improve the package to retirees.
According to the Pro Vice Chancellor, the University has made impressive strides in many exciting directions, adding that the achievements were made possible through the collective efforts of students, faculty and staff as well as major key players in the field of tertiary education in and outside the country.

Shop With Us….+233243241315
Prof Boohene entreated Unions of the University of Cape Coast campus including the University Teachers Association of Ghana (UTAG), Ghana Association of University Administrators (GAUA) among others to invest in their members and help them to plan towards retirement.
She therefore congratulated the three longest serving retirees including Mrs. Doris Wilson, Mr. Samuel Graham Wilberforce and Mr. Joseph Afful for serving the University for 42 and 41 years respectively.
On his part, the Chairman of the Pensioners Associated of UCC, Mr. Fredrick Sam asked the retirees to endeavor to join the United Pensioners Association to ensure their grievances and needs are catered for.
He urged the retirees not to see retirement as punishment or a death warrent but rather be encouraged and be seen as the core house of knowledge and experience.
Source: GNewsprime.com/Asana Gordon,2022