Education
'Over speeding High Cost of living' is Killing Teachers- NAGRAT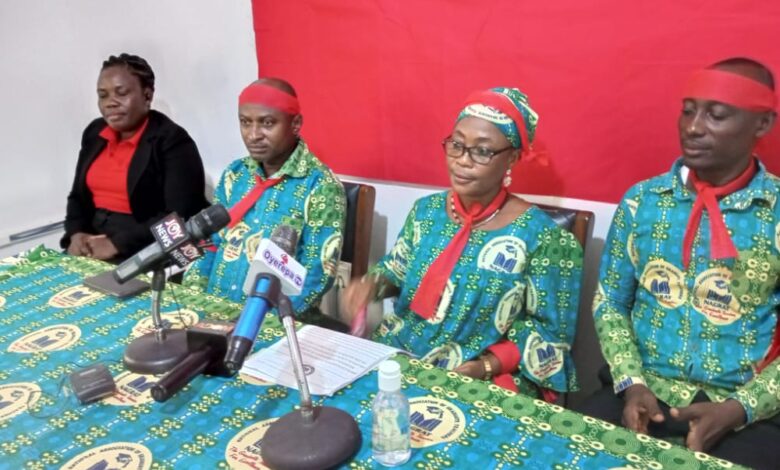 The Central Regional branch of the National Association of Graduate Teachers (NAGRAT), says the "over speeding high cost of living" in the country in recent times is killing teachers, "as teachers salary which is nothing to write about, coupled with high cost of fuel amongst other goods and services have made life unbearable for the Ghanaian teacher".
NAGRAT has thus called on the government to arrest the situation as soon as practicable and fix the Cost of Living Allowance (COLA) for teachers.
The aggrieved Teachers therefore threatened to lay down their tools by the end of June, if government refuse to grant them the 20% Cost of Living Allowance.
At a press conference held in Cape Coast, the Central Regional Chairperson of the Association, Madam Salamatu Gausu observed that the introduction of new taxes had worsened an already hard situation, yet the teacher's salary remained the same.
"We have come to our wits end: we can no longer bear the pain. We therefore demand of National Leadership that if at the end of June, 2022, our call for CoLA is not heeded, we would have no option than to pay heed to the clarion of our members to lay down our tools" she hinted.
"Between January and now, fuel prices have increased by over 50% which has affected transportation cost by 35%, the cost of a bag of cement was ¢47, now it's ¢65, a ball of kenkey was ¢1.50, now it's ¢2.50 and ¢3.00, a cup of beans was selling at ¢6.00, sanitary pad ¢6.00 now ¢10", the Regional chair stated.
This astronomical increment in prices, according to the Chairperson has compounded the plight of the Ghanaian teacher and public workers who are virtually living on 'life support'.
In view of these, Madam Gausu reminded that, Labour Unions pleaded with government to cushion the Ghanaian worker by granting Cost of Living Allowance to help mitigate the mass suffering of the Ghanaian worker but was futile.
She expressed sadness that, "government has shown great insensitivity to the plight of Ghanaian workers".
"We as a Union whose core mandate is to promote the welfare of our members cannot sit unconcerned whilst we go through this suffering that has no end in sight", Madam Gausu added.
Source: Gnewsprime.com/Asana Gordon, 2022.