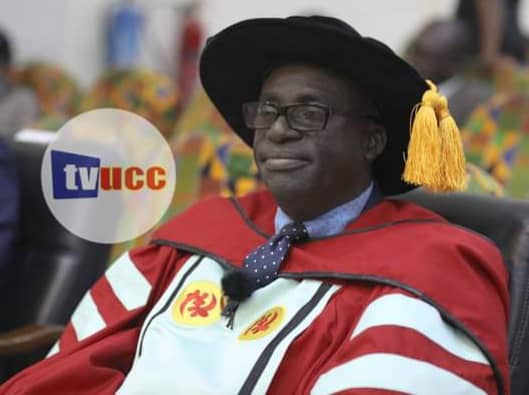 The first Professor of Religious and Moral Education (RME) in Ghana, Rev. Prof. Seth Asare-Danso has charged the four traditional Universities including University of Ghana, KNUST, UEW and UDS to review their RME curriculum.
These Universities according to him are mentoring Colleges of Education in Ghana but have few content courses in Religious and Moral Education.
"My observation is that the Colleges of Education are preparing teachers to go out and teach RME and the Colleges have been shared among five traditional Universities including University of Cape Coast (UCC) and other four Universities but as far as teaching of religion is concern, UCC make their students study 13 RME courses such as Philosophical and Psychological foundation of RME. The rest are Anthropology of Religion, African Traditional Religion, Religious Experience of Humankind, Environmental Ethics, Introduction to Moral Education, Sociological Perspectives of RME, Psychological Perspectives of RME, Morality and Social Values in Africa. Also included are African Traditional Religion and Health Management, Critical Issues in RME, Curriculum Studies in RME and Methods of Teaching RME", he  stated.
Rev. Prof. Asare Danso is RME Professor at the Department of Arts Education at UCC. He disclosed that the aforementioned courses are what UCC has provided for only the Colleges that are affiliated to the University.
The RME Professor expressed disappointment about the four other Universities which are running education programmes and have only seven RME courses including Introduction of RME, Introduction to Christianity, Introduction of Islamic Studies, Introduction to African Traditional Religion, Critical Issues in Moral Education, RME Content and their Pedagogies, Theories of Religious and Moral Development.
"If you equip your learner with these kind of knowledge what kind of content knowledge is the person going to go out with and how is the person going to perform"?, the First Professor of Religious and Moral Education in Ghana quizzed.
"No wonder recently UCC organized interviews for institutions of education for the selection of tutors and some tutors who claimed they studied Religion could not answer questions related to Anthropology, Psychology Religion and they were disqualified" he disclosed.
Rev. Prof Asare-Danso made the observation when he presented his Professorial lecture at UCC with the topic, "Fulfilling the Mission of the Basel Mission for Sustainable Development and the Presbyterian Praxis".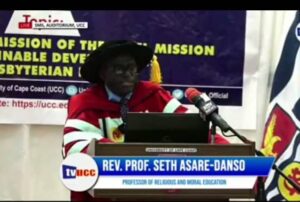 He said University of Cape Coast will make sure they produce the best and they will continue to provide leadership for this country as far as teacher education is concerned.
Rev. Prof. Asare Danso appealed to the government to make RME a core curriculum at all levels of education including the pre-school.
Source: Gnewsprime.com/Asana Gordon, 2022.