Education
General news
Guide us with your spiritual directions- 2nd Deputy Speaker of Parliament to Spiritual leaders
Story: Hajia Asana Gordon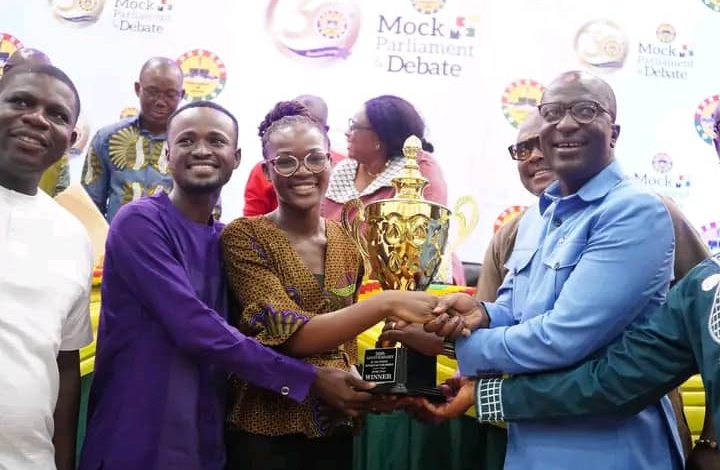 The 2nd Deputy Speaker of  parliament, Mr. Andrew Asiamah Amoako has tasked spiritual leaders in Ghana to pray for the country's leaders to be truthful and sincere to the people.
"Don't leave us alone, guide us with your spiritual directions", he appealed.
He stated, "We need prayers, the nation needs your prayers, we need direction that can lead us into prosperity".
Mr. Asiamah Amoako who doubles as the Member of Parliament (MP) for Fomena constituency made this appeal when Parliament held a mock parliamentary sitting at the University of Cape Coast (UCC) as part of the 30th anniversary celebration of uninterrupted parliamentary democracy.
The aim was to bring Parliament to the doorstep of the people.
It was held on the theme; "Thirty (30) years of parliamentary democracy under the Fourth Republic: The Journey Thus Far".
The mock parliamentary sitting was marked by students debate which was won by students from the UCC, followed by the Takoradi Technical University who placed second and the Cape Coast Technical University occupying the third position.
Mr. Asiamah Amoako said Ghanaians should not be allowed to lose faith and trust in democracy.
"With hard work and dedication, we shall secure prosperity for all in the country",  Mr. Asiamah Amoako assured.
The Second Deputy Speaker of Parliament observed that "the sustenance of our parliamentary democracy requires continuous education or public awareness on parliamentary roles".
"We have taken upon ourselves based on this programme to tell Ghanaians that Ghana has enjoyed 30 years of democratic depensertion and we are asking the youth to be patient irrespective of the current state of the Economy. Nobody is saying everything is perfect but it's a process", Mr. Asiamah Amoako stated.
Gnewsprime.com