General news
Politics
Cecilia Dapaah Arrested over suspected corruption offences
Story: GEORGINA APPIAH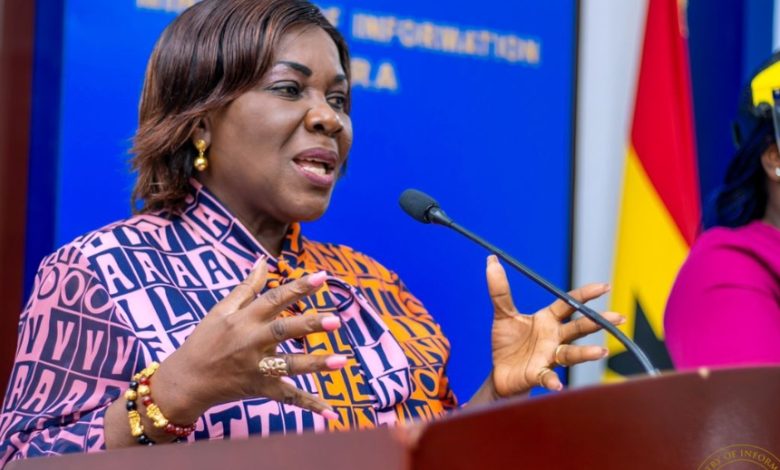 The immediate past Minister of Sanitation and Water Resources, Cecilia Abena Dapaah has been arrested over suspected corruption related offences.
The arrest is in connection with the huge amount of money and other valuable items reportedly stolen from her residence.
A press release signed by the Special Prosecutor, Kingsley Agyebeng confirmed the former Minister was placed under arrest by the Office of the Special Prosecutor on Monday, 24th July, 2023.
" Ms Dapaah is being questioned by authorized officers of the OSP", the statement concluded.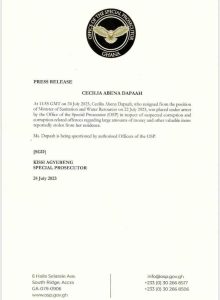 It would be recalled that Madam Dapaah resigned from the position of Minister of Sanitation and Water Resources on Saturday, July 22, 2023.
Her resignation follows the publication of a court case involving huge amounts of money and valuables that were alledgedly stolen from her residence, which caused a stir in the public domain.
Two house helps working for Cecilia Abena Dapaah and her husband, Mr. Daniel Osei Kuffour are facing charges at an Accra Circuit Court, for allegedly stealing monies and items worth millions of cedis from the couple's residence at Abelemkpe in Accra.
The accused individuals, 18-year-old Patience Botwe and 30-year-old Sarah Agyei, have been charged with conspiracy to commit a crime and five counts of stealing.
According to a graphic online report, the alleged thefts occurred between July and October 2022.
"During this period, the house helps allegedly stole personal effects belonging to Madam Cecilia Abena Dapaah, including assorted clothes valued at GH¢95,000, handbags, perfumes, and jewellery worth US$95,000.
Additionally, Ms. Botwe is accused of stealing six pieces of Kente cloth worth GH¢90,000 and six sets of men's suits valued at US$3,000, which belong to the minister's husband.
Three other individuals, identified as Ms. Botwe's current and former boyfriends and her father, are also facing charges for allegedly being involved in the crime. They have been respectively charged with dishonestly receiving GH¢1 million, GH¢180,000, and GH¢50,000".
Gnewsprime.com