General news
Man installed Chief in Adansi Praso, after haunting armed robbers from community
Story: Shadrack Owusu Asante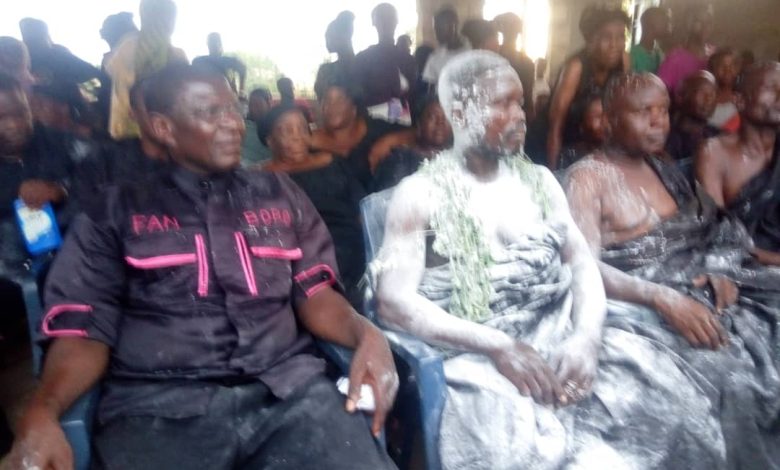 The braveness of a 42-year-old man has earned him a chieftaincy role in the Adansi Praso Traditional Council in the Adansi South District of the Ashanti Region.
Mr. Alex Osei Donkoh as known in private life is now called Nana Osei Okogyeaman I, following his enstoolment as Gyaase hene by the traditional leaders and people of Adansi Praso on Thursday, April 20, 2023.
After going through the customary and traditional processes, the new Gyaasehene was outdoored and presented to the family and the entire Adansi Praso Township in a very colourful procession through the principal streets.
The Chief of Adansi Praso, Nana Agyemang Pemsan I, explained that "this is in recognition of his outstanding contribution towards the peace and development of the area".
According to him, "through the effort of Nana Osei Okogyeaman(Alex Donkoh), the community is presently enjoying peace and stability, after he waged war against notorious criminals who were tormenting the lives of the local people".
"He haunted them, got them arrested and subsequently handed them to the police for prosecution. Unarguably, he deserves commendation and the title adorn on him will forever remain in his house", he reiterated.
Nana Agyemang Pemsan appealed to the newly installed Chief to help foster peace and unity within the area and beyond.
Meanwhile, the Kyidomhene of Adanse Praso, Nana Okofo Tabi assured the new Gyaasehene of their unflinching support towards the development of the area.
Speaking with Angel Fm and Rich Fm Reporter, Kwame Owusu Asante Shadrack, the newly installed Chief pledged to make peace, unity and development his focus.
He, however, appealed to the government and benevolent individuals to help build a police station in the area, indicating that "lands are available for the project to help mitigate crime and other related illegalities".
Story: Gnewsprime.com