General news
One Person Missing….As Communities in KEEA get Flooded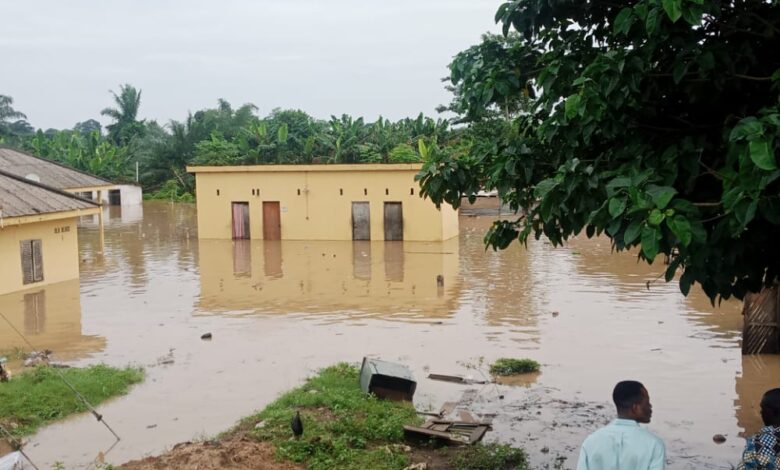 One person is suspected missing, after a number of communities got flooded in the Komenda Edina Eguafo Abrem Municipality of the Central Region on Saturday.
The missing person, suspected to be a Prison Officer at the Ankaful Prisons was reported trying to save some residents from getting drowned in the flood waters but was later reported missing.
The affected communities included Abina, Abee, Simiw, Ntranoa, Nkontrado and Ankaful among others.
A number of communities were however cut off and were assisted by canoes to cross from one place to the other.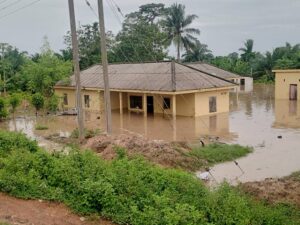 According to the Public Relations Officer of the Central Regional branch of the Ghana National Fire Service (GNFS), DOIII Abdul Wasiw Hudu, "a team of firemen who went to assist Ntranoa community were informed that a man suspected to be a Prison Officer got drowned near the Maximum Prison Annex.
The firemen descended into the flood water in lifejacket and searched everywhere but to no avail".
In communities such as Abee and Simiw, almost all houses in the area were submerged.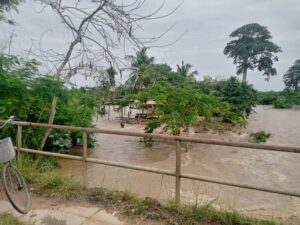 In a bid to assist the situation, the Central Regional Command of the GNFS deployed rescue teams from four Stations to assist residents and victims of Saturday's floods in Cape Coast and surrounding communities.
The flood destroyed properties running into millions of Ghana Cedis and rendered many people homeless.
Meanwhile, the Central Regional Commander, ACFOI John Amarlai Amartey accompanied by operational officers visited some of the disaster sites to supervise activities of the rescue teams.
He interacted with some of the evacuated residents and assured them to stay strong.
JUKWA ROAD COLLAPSES…
The Saturday flooding resulted in the collapse of the bridge connecting the Cape Coast Jukwa road, de-linking Jukwa and Cape Coast.
The Assemblyman for Jukwa East, David Okata has however appealed to authorities to as a matter of urgency find means to reconnect the separated road to enable commuters have access to the road.
Ghana Water Company Denies Dam Spillage…
Meanwhile, the Central Regional branch of the Ghana Water Company Limited has denied claims that the flooding in the Jukwa area was as a result of water spillage from the Brimsu Dam.
According to the Central and Western Regional Communications Manager, Nana Yaw Barima Barnie "Brimsu Dam has no such gate which is opened to spill excess water. The water overflows on its own when there is too much water in the dam. GWCL cannot, therefore be responsible for what may be happening at Jukwa or elsewhere".
Source; Gnewsprime.com/GEORGINA APPIAH, 2022.