General news
Politics
Cape Coast North lucky to have Ekow Ewusi as their MP to be- Chairman Arhin
Story: Hajia Asana Gordon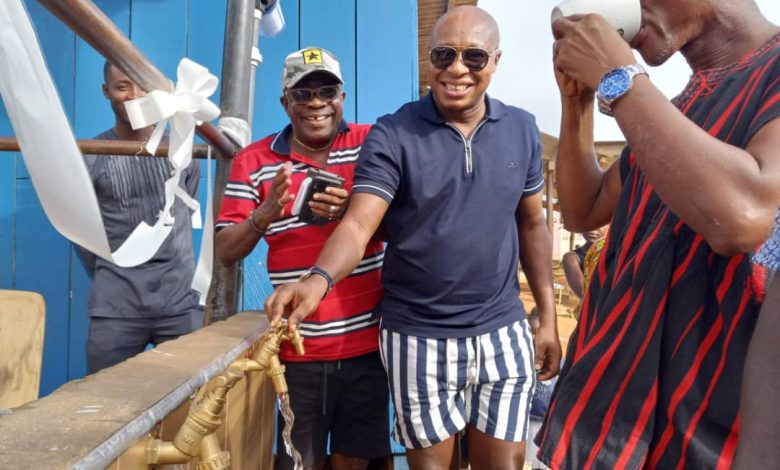 The Cape Coast North constituency Chairmen of the governing New Patriotic Party(NPP), Mr. Stephen Kojo Arhin, popularly known in politics as 'Wewebi' has underlined how lucky constituents of Cape Coast North are to have the former Central Regional Vice-Chairman of NPP, Mr. Horace Ekow Ewusi as their Member of Parliament(MP) to be.
According to him, "Mr. Ekow Ewusi has the Cape Coast North constituency at heart and has thus supported the constituency with his own resources, including assisting women financially to start up their businesses".
"As the Chairman of the Cape Coast North constituency, I see Ekow Ewusi as the second Jesus who has solved numerous challenges facing  the constituency and even improved lives of constituents, irrespective of their political colours", Mr. Kojo Arhin hinted.
He made this pronouncement when Ekow Ewusi and his entourage stormed Apewosika/Kokoado near the University of Cape Coast(UCC) to commission a potable drinking water.
The team also stormed Ebubonko Amissano Electoral Area and Senawin to present Hair dryers, sewing machines and public toilet facility respectively.
Mr. Kojo Arhin who officially announced Ekow Ewusi's MP's ambition to the delegates and constituents,  appealed to them to help him(Kojo Arhin) and Ekow Ewusi to take Cape Coast North to the next level.
"Cape Coast North executives and
constituents are ever ready to send Ekow Ewusi to Parliament to do more developmental projects", Mr. Kojo Arhin stated.
On his part, an opinion leader of Apewosika, Kojo Enu applauded Eko Ewusi for addressing the water shortage situation in the area, which was one of their biggest challenges.
He revealed that due to the water shortage situation, residents in the area had no option than to walk for miles before getting potable drinking water.
An Aspiring parliamentary candidate for the Cape Coast North constituency, Mr. Ekow Ewusi vowed to continue to serve the people of his constituency as  expected and not because he was eyeing the parliamentary seat but as a good deed.
Source: Gnewsprime.com