General news
Man allegedly inflicts cutlass wounds on 10-year-old boy for stealing scraps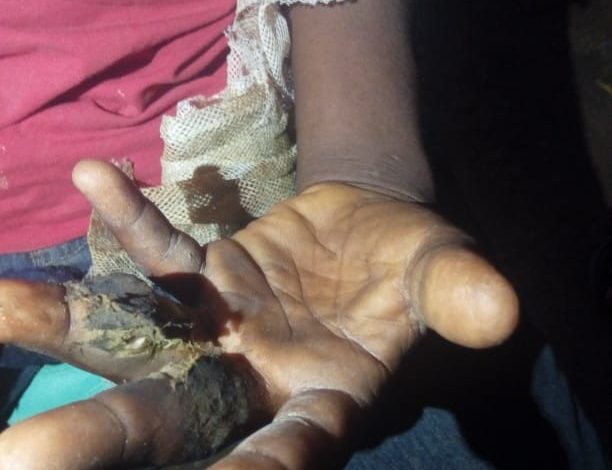 The fingers of a 10-year-old boy are on the verge of getting rotten, two weeks after a Businessman in Assin Fosu allegedly inflicted cutlass wounds on his hand, accusing the boy of stealing his scraps.
The businessman, Nana Danso who doubles as the proprietor of Chief Danso preparatory school in Mempeasem in the Assin Fosu Municipality of the Central Region is also a patron of the royal family of Assin Odumase.
The victim, name withheld, speaking to this reporter indicated that he was arrested by some men, who accused him of stealing scraps and was later handed over to the businessman known in the area as Chief Danso.
The victim whose "rotten hand" is currently wrapped in a rug stressed that "Chief Danso, after threatening to cut off his hand, put the hand on a cement block, pulled up a cutlass, and raised it high in the sky in an attempt to cut it".
Out of fear, the victim grabbed the cutlass and the businessman forcefully pulled it from his hand, and as a result cut three of the middle fingers.
He noted that before the incident, "Chief Danso made him sit on the floor with his legs tied to his chest for several minutes".
The victim stated that the death of his mother and the absence of his father, whom he had never set eyes on, forced him to deal in scraps to fend for himself and sometimes he ate with the help of benevolent individuals.
The aunt of the victim, 23-year-old Emmanuella Addo explained to Shadrack Owusu Asante that "the family never sent the victim to the hospital for the past two weeks after the ordeal due to financial difficulties and didn't report the matter to the police since the grandmother who is taking care of the boy is unemployed".
She, therefore, solicited public support and justice for the innocent boy "because he is battling to sustain his life".
When contacted, Nana Danso however admitted the offense, saying "he is prepared to bear the medical bills and other consumables for the boy and that he did not intend to cause any harm to the boy".
However, he has been a victim of "the boy's stealing behavior, hence, the anger to punish him".
Source: Gnewsprime.com/Kwame Owusu Asante Shadrack, Rich Fm, Assin Fosu.