General news
11-year-old boy shot in the chest by Mississippi police after calling 911 for help says he prayed and sang to stay alive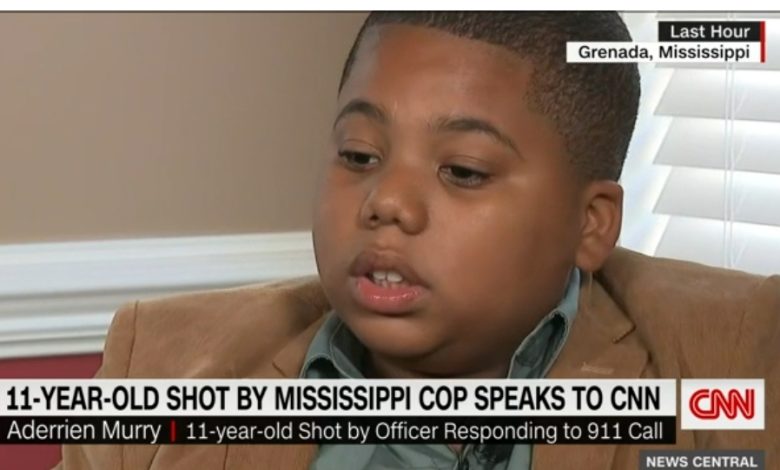 The 11-year-old boy who was shot in the chest by a Mississippi police officer after he called 911 for help says he began praying and singing during what he thought would be his last moments alive, while his mother pushed down on his wound to stop the bleeding.
Aderrien Murry sang the gospel song "No Weapon Formed Against Me Shall Prosper" in the moments after his May 20 shooting, he told CNN's Nick Valencia in an interview Tuesday. He then told his mother to tell his family and his teacher he was "sorry for what he did."
It's his prayers that helped save his life, Aderrien said. But the thoughts of what could have happened still haunt him.
"Sometimes, I can see myself laying inside the coffin. Those are my thoughts at night, my only ones," Aderrien said, speaking softly throughout the interview, but often with a wisdom well beyond his young age. "Sometimes I think people are watching me. But my main thought is me dead, inside the coffin."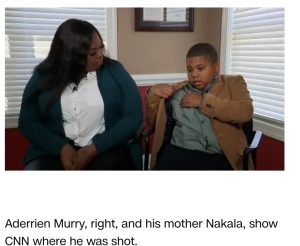 Nearly 10 days after the shooting, Aderrien told CNN he still has pain in parts of his body, has trouble breathing and isn't able to do things like run or jump. But he's alive, and that, he said, is "because of the grace of God."
"I think God has a plan for me. I don't know it yet," he said, but he will "know it soon."
He followed police commands and was shot
Aderrien was shot in the chest by an Indianola Police Department officer while the officer was responding to a domestic disturbance call at the child's home, CNN has previously reported. Indianola police have confirmed the officer who shot Aderrien was Greg Capers.
Capers has not responded to CNN's requests for comment. Police have not provided additional details on the shooting.
The shooting is being probed by the Mississippi Bureau of Investigation.
Last week, the Indianola Board of Aldermen voted to place Capers on paid administrative leave while the shooting is investigated, the attorney representing the boy and his mother previously told CNN.
The boy's mother, Nakala Murry, asked Aderrien to call police after the father of another of her children arrived at her home after 4 a.m. that Saturday and was "irate."
Aderrien told CNN he had told the operator the man did not have a gun, and that his mother also told police when they arrived that he did not have a gun.
Upon arrival, police yelled for everyone in the house to come out with their hands up, the boy recalled. And when Aderrien came, he was shot.
"I just tried to follow the police commands but I guess that didn't work," the child said.
After the shooting, the child was given a chest tube and placed on a ventilator, CNN has reported. He had a collapsed lung, fractured ribs, and a lacerated liver, his mother has said. He was released from the hospital Wednesday.
"If I had not been informed about the case I would not have believed that this could be possible. A trained officer shooting an unarmed 11-year-old?" Carlos Moore, the attorney representing the child and his mother, told CNN. "For him to do this, to shoot a boy that obeyed his commands, he came out with his hands up, and get shot in the chest? Unheard of."
CNN