General news
Nana Okaa wins Anomabo Awiano Chieftaincy battle
Story: Hajia Asana Gordon
The substantive Chief of Anomabo Awiano in the Central Region, Nana Okaa IV, whose Chieftaincy was disputed and the case sent to court for redress has won the case at the Cape Coast High court.
Speaking to the media shortly after the court proceedings, Nana Okaa IV said "somewhere last year some group of people led by Asakarahenma, Nana Abena Kyerewaa I and Francis Ebo Mensah petitioned the Cape Coast High Court describing the former as Chief of Anomabo Awiano". Hence, the Chieftaincy dispute.
Nana Okaa stated that he won the case in court because he was found worthy to be the chief of Anomabo Awiano "and that's a fact".
Backing his statement with documents, Nana Okaa said he was legally enstooled as the Chief of Anomabo Awiano on Friday 7th August, 2009.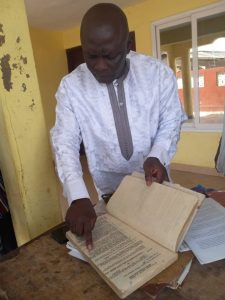 Nana Okaa, Original Chief of Anomabo Awiano.
He expressed disappointment about how Francis Ebo Mensah and Nana Abena Kyerewaa paraded themselves as Chief and Queen mother of Anomabo Awiano respectively, resulting in disturbances in the community.
"Some people within Anomabo fled to some parts of the country to seek greener pasture as a result of the confusion in Awiano.
Nana Okaa described the incident as "senseless" by certain individuals who sought to tarnish the reputation and the integrity of the chieftaincy institution in the area.
"I and the Anona Family of Anomabo Awiano want to convey our unanimous concern and disappointment to the unscrupulous, cruel and senseless acts of certain individuals or group that caused fear and panic to the people of Awiano" he fumed.
"Surprisingly, today Nana Abena Kyerewaa and her team told the court that they could not continue with the case", and the court also awarded a GH3,000 cost against Nana Abena Kyerewaa in favour of the Nana Okaa and his family.
Nana Okaa promised to offer free plots of land to the youth and investors who were interested in working in the area.
He appealed to the people of Anomabo Awiano who were spread across the country to feel free and come home to develop the area.
Source: Gnewsprime.com