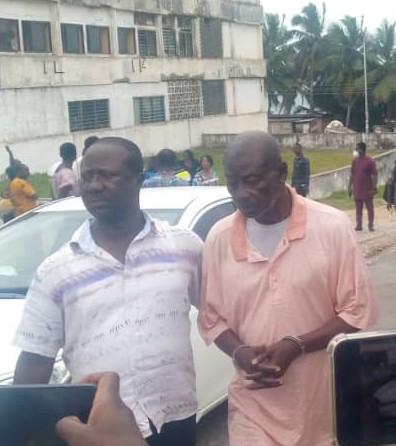 Three accused persons in connection with the murder of Georgina Asor Botchwey, the aspiring trainee nurse who was murdered in Mankessim have been denied bail.
They reappeared before the Cape Coast District court II, presided by Her Worship Bernice Mensima Ackon on Tuesday, 4th October, 2022 and the case was adjourned to 18th October, 2022.
The three, Christopher Ekow Clarke Quansah, Tufohen of Ekumfi Akwakrom, Micheal Darko, a self styled Pastor and one other accomplice, Jonathan Obeng are being accused of murdering Georgina Botchwey  and a second victim, Gloria Yeboah, a trader from Kumasi.
The case was adjourned to give the police enough time to conduct investigations in the unfolding cases in relation to the murder of Georgina Asor Botchwey.
On Tuesday, September 20, 2022, the pastor, Michael Darko led investigators to the room of the Tufohene of Ekumfi Akwakrom, Christopher Clacke, where Asor's body was burried and later exhumed by the police.
The family of the late Asor Botchwey have since performed the final funeral rite for the victim.
Source: Gnewsprime.com