General news
Nurse Lucy Letby Found Guilty of murdering seven babies in neonatal unit
Source: news.sky.com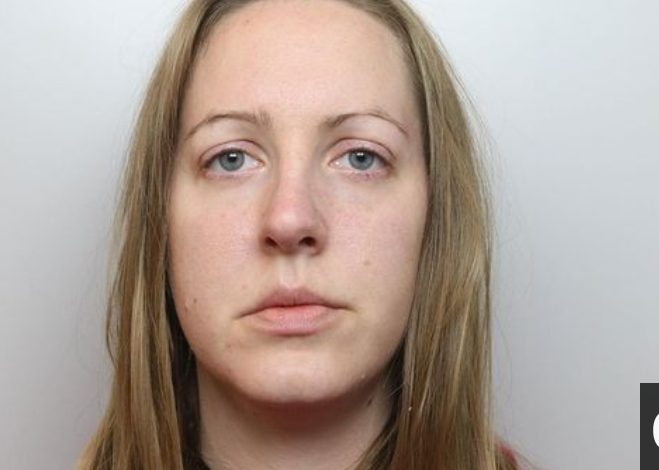 A nurse has been found guilty of murdering seven babies and attempting to murder six other infants while working at a hospital's neonatal unit between June 2015 and June 2016.
Lucy Letby – who was in her mid-20s and working at the Countess of Chester Hospital at the time of the murders – is now the UK's most prolific child killer of modern times.
She was found guilty by a series of partial verdicts, delivered several days apart, with the judge issuing reporting restrictions until the end of the trial.
Among the guilty verdicts, Letby was convicted of seven counts of attempted murder, including two involving the same infant.
Letby cried during some of the verdicts, while families of her victims sobbed and comforted each other as the jury read out its findings. One member of the jury also cried and held her head in her hands.
She was also found not guilty of two charges of attempted murder. The jury was unable to reach verdicts on six further counts of attempted murder.
Letby's mother, Susan, broke down sobbing as her daughter was led away from the dock after the first set of verdicts, whispering "you can't be serious, this can't be right," into her husband's arms.
Neither Letby nor her parents were in court as the trial came to a close today.
During a later set of verdicts, Letby refused to come up from the cells, and was found guilty of more murders in her absence.
All of the children have been granted anonymity, although their names were read out in the courtroom during the nine-month trial.
Two of her victims, known as Child L and M, were twin brothers.
They had been born prematurely and were just days old when Letby tried to kill them within hours of each other, in April 2016.
Speaking publicly for the very first time, the boys' parents described the killer nurse as acting "very cool and calm" after trying to murder Child M with an injection of excessive air.
"At that time, her body language and her behaviour totally changed," the twins' mother said.
"She was very annoyed with us. She thought that 'I couldn't kill your baby'."
'I had to listen to her lie and lie and lie'
The boys' father said he broke down as he watched doctors trying to resuscitate Child M on the ward, "pumping his heart like a rag doll".
"We were first-time parents, we didn't know what was going on," he said. Neither parent suspected Lucy Letby at the time.
Both Child M and Child L, who Letby tried to poison with insulin, survived the assaults.
But Child M has been left with brain damage which his parents say means he may "deviate from his peers" as he grows older.
The boys' parents, who joined other families in the court, said it was "horrendous" to witness Letby repeatedly deny hurting their children during weeks of cross-examination.
"I had to listen to her lie and lie and lie," their mother said, "and I say now enough: don't tell lies."
"Whatever sentence she gets, it's not going to be enough."
'Devious' and 'cold-blooded'
Described as "devious" and "cold-blooded", Letby "completely perverted her learning" and "weaponised whatever was at her disposal," the Crown Prosecution Service (CPS) said.
The jury heard the nurse would misuse medical equipment and medicines to cause babies to unexpectedly collapse across day and night shifts on the hospital's neonatal ward.
Her victims included both boys and girls, many of whom were born prematurely.
Two of her last victims were boys, known as Children O and P, who were two of three triplet siblings. Both died within the first week of their lives, and Child O was found with severe liver damage.
Pascale Jones, of the CPS, said Letby "betrayed the trust that people had in the NHS" as well as the "faith that families had".
"Behind that angelic smile was a much darker side to her personality," she added.
Police investigating more attacks
Letby stood trial accused of murdering seven babies and trying to murder 10 others at the Countess of Chester Hospital.
The nurse, from Hereford, denied all the charges.
But the court heard that colleagues had suspicions about Letby well over a year before hospital bosses contacted the police.
A nurse who worked at the hospital told Sky News that when "alarms would go off during the night" there would be a "phrase that people would use".
Lynsey Artell said that colleagues would ask, "I wonder if Lucy's working tonight?".
Ms Artell also fears that Letby attacked her son, Asa, who was cared for on the hospital's neonatal ward after being born two months premature.
She is calling for the police to reinvestigate her claims and that of other parents.
Following today's verdicts, Cheshire Police confirmed they are now investigating whether Letby could have attacked other children in her care, prior to June 2015.
This includes several more years she worked at the Countess of Chester Hospital, as well as time Letby spent on training placements at Liverpool Women's Hospital.
Sky News has contacted both hospitals for comment.
DCI Nicola Evans, the deputy senior investigating officer on the case, told Sky News that it remains "really hard to even accept that, in that setting, somebody would be harming babies".
"That is totally unnatural for anybody to think that," she added.
No motive ever established
Cheshire Police conducted a two-year investigation into the babies' deaths before Letby was charged in November 2020.
Officers say they examined more than half a million medical and digital records and have been supporting the victims' families, many of whom have attended court proceedings in person.
News.sky.com