General news
Lawyer who murdered wife and son gets 2 life terms for double murder
Story: npr.org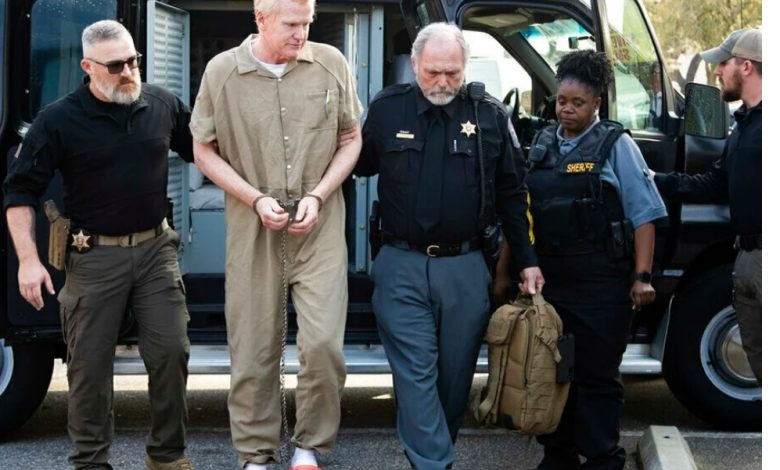 Judge Clifton Newman sentenced disgraced South Carolina lawyer Alex Murdaugh to two consecutive life sentences for the murders of his wife and son Friday, less than 24 hours after a jury found Murdaugh guilty in the 2021 slayings of Maggie and Paul Murdaugh.
Newman told Murdaugh that each of the punishments apply to "the rest of your natural life," adding that the sentences are consecutive.
The judge announced the punishment after Murdaugh briefly addressed the court.
"Good morning, your honor. I am innocent," Murdaugh said. "I would never hurt my wife Maggie, and I would never hurt my son, Paw-Paw. Thank you."
Murdaugh faced a sentence of 30 years to life in prison for each murder conviction. Prosecutors had said they would seek a punishment of life in prison without parole for Murdaugh.
The court session began shortly after 9:30 a.m. ET. Newman had said he would render his sentence after any victim impact statements, but prosecutor Creighton Waters began his remarks by saying the state did not have anyone who wanted to deliver a victim statement.
"The depravity, the callousness, the selfishness of these crimes are stunning," Waters said, adding that Murdaugh continued to lie and showed no remorse.
Pointing at Murdaugh in the courtroom, Waters added, "A man like this man should never be allowed to be among free, law-abiding citizens again."
He then asked for the maximum punishment, of two consecutive life sentences.
The judge said he didn't question prosecutors' decision not to seek the death penalty in the case — but he noted that over the decades in which Murdaugh's family controlled the circuit solicitor's office, "many have received the death penalty — probably for lesser conduct."
Newman urged Murdaugh to confess to his crimes in open court, saying it was an opportunity for closure for Murdaugh and his family.
"I respect this court, but I'm innocent," Murdaugh replied.
"It might not have been you," Newman told Murdaugh of the person who committed the terrible acts. Perhaps, he added, Murdaugh's noted drug addiction caused him to become another person.
The jury reached its verdict very quickly
After a trial that spanned 28 days, it took a Colleton County jury only a few hours to agree unanimously that Murdaugh is guilty of two counts of murder and two counts of using a weapon during the commission of a violent crime.
Jurors found Murdaugh, 54, guilty of using a shotgun to kill his son Paul, 22, and using a rifle to kill his wife, Maggie, 52, on the night of June 7, 2021, at the family's Moselle hunting estate, in a rural area about 60 miles inland from Charleston, S.C.
The sentencing closes a six-week-long trial that charted Murdaugh's fall from grace. Murdaugh, who was born into power and privilege as the scion of a prominent family of lawyers and prosecutors, has been disbarred. He also faces dozens of other criminal charges over financial crimes — some of which he admitted to during his murder trial.
His defense team — and Murdaugh himself, when he took the stand in his own defense — insisted he was innocent, depicting him as a caring father and husband who succumbed to a severe opiate addiction that led him to drain his bank accounts, rack up debt and steal money from his law firm.
Prosecutors said Murdaugh killed his wife and son to serve his own ends, after siphoning millions of dollars away from his colleagues and clients. He was facing a financial reckoning, they said, that also included his liability in a court case over a fatal 2019 boating accident in which Paul, then 19, was said to be driving.
The case turned on circumstantial evidence, and lies
Murdaugh admitted to lying to investigators about his alibi — blaming his shifting version of events on paranoia stemming from his addiction — but he maintained that he did not kill his wife and son.
During the trial, jurors heard testimony from victims of Murdaugh's financial schemes and colleagues at his former law firm. They also learned details about what he described as an attempt to stage his own death, the 2019 boating accident, and a housekeeper who died at Moselle in 2018.
Prosecutors never produced the two murder weapons used to kill Maggie and Paul, and there were no eyewitnesses. But the prosecution proved that from his earliest interactions with first responders on the night of the murders, Murdaugh lied to investigators.
Murdaugh said repeatedly that he didn't go with his wife and son to the dog kennels where they were shot and killed, saying that he stayed in the house, and took a nap before leaving to see his ailing mother.
But after witnesses identified Murdaugh's voice in a cellphone video taken by Paul at the kennel around 8:45 p.m. – minutes before investigators said the shooting started — Murdaugh's alibi fell apart. He then made the extraordinary decision to testify on his own behalf, saying that while he had lied to police, he didn't shoot his wife and son.
"I lied about being down there. And I'm so sorry that I did," he said.
"This defendant has fooled everyone — everyone who thought they were close to him," Waters told the jury in his closing argument. "He fooled Maggie and Paul, too, and they paid for it with their lives. Don't let him fool you, too."
Source: npr.org