General news
Islamic Education: Zongo Chief requests an ultra modern Arabic and English School
Story: Asana Gordon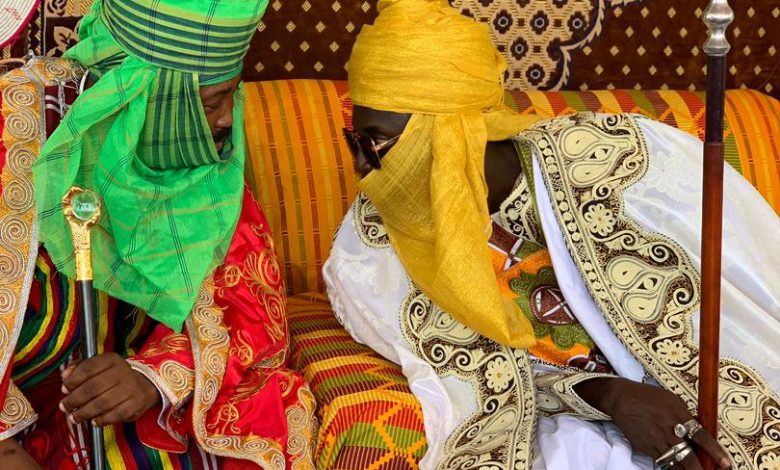 The newly installed Chief of Kwaprow Zongo in Cape Coast, Sarki Abdul Karim Dawda has appealed to the government, Ghana Muslim Mission and philanthropists to  urgently come to the aid of the community and construct an ultra modern Arabic and English school  at Kwaprow to enhance Islamic education.
He believed that the construction of Arabic and English School in the area would not only benefit the Muslims but Christians as well.
Sarki Karim Dawda again was not happy about the lack of Makaranta( School for the study of the Quran) at Kwaprow and appealed to the Ghana Muslim Mission to turn attention to their plight.
He made this known during a colourful installation ceremony which attracted chiefs from other communities amid cultural display.
A piece of white calico was wrapped around the chief's head to signify his installation and Muslim prayers were offered to seal the exercise.
Sarki Karim Dawda pledged to collaborate with the Chief of Kwaprow, Nana Kwesi Mensah III to transform the Kwaprow Community.
He appealed to the government to extend the 1D1F projects to Kwaprow Community because there was no single factory or job in the area.
Sarki Karim Dawda again appealed to the government to work in collaboration with the Zongo Chiefs to address the challenges of youth unemployment facing the zongo communities.
He advised the youth in the various Zongo's to take their education seriously and be wary of politicians who oftentimes recruit them for negative vices during and after general elections.
Sarki Karim Dawda again appealed to the youth in Zongo Communities to be law abiding and desist from any unpleasant acts.
On his part, the Chief of Kwaprow, Nana Kweasi Meansah was happy to have Sarki Abdul Karim Dawda as Zongo Chief of the area and promised to work together with him to develop Kwaprow.
Source: Gnewsprime.com