General news
Horror: Gomoa Okyereko accident claims about 15 lives
Story: GEORGINA APPIAH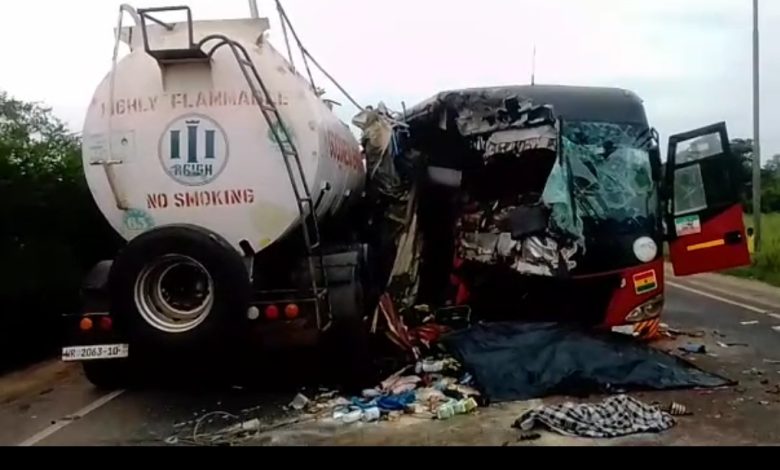 Fifteen people are reported dead and over thirty people injured, after a Yutong bus with registration number GT 5866-L and a fuel tanker with registration number WR 2063-10 were involved in a head on collision at Gomoa Okyereko at about 5:00am Tuesday morning.
Information gathered by Gnewsprime.com indicated that the tanker, traveling from Accra to Takoradi, veered of its lane and ran into the Yutong bus, heading towards Buduburam from Abidjan, claiming fifteen lives on the spot, as the two vehicles were severely destroyed.
Victims were conveyed to the Winneba Trauma Hospital and the Korle-bu Teaching Hospital.
According to the Public Relations Officer of the Central Regional branch of the Ghana National Fire Service (GNFS), Abdul Wasiu Hudu, "the main cause of the accident is not readily known but the rescue team from GNFS is at the scene,  trying to rescue the mate of the tanker trapped in the vehicle".
The accident attracted the Ghana Ambulance Service and the Police Service together with the GNFS to the scene and are helping the situation.
It was said to have caused a heavy traffic on the Accra- Winneba highway.
UDATE ON OKYEREKO ACCIDENT
"The total number of deaths has increased to 16, after the mate was confirmed dead", Abdul Wasiu Hudu has said.
The road is now opened to traffic as personnel of GNFS are on standby to prevent fire outbreak or explosion.
"Both drivers are alive at the Trauma and Specialist Hospital in Winneba", according to the PRO of the GNFS in Central Region.
Source: Gnewsprime.com