General news
NPP will win massively in 2024 elections to shame critics- Chairman Obed
Story: Hajia Asana Gordon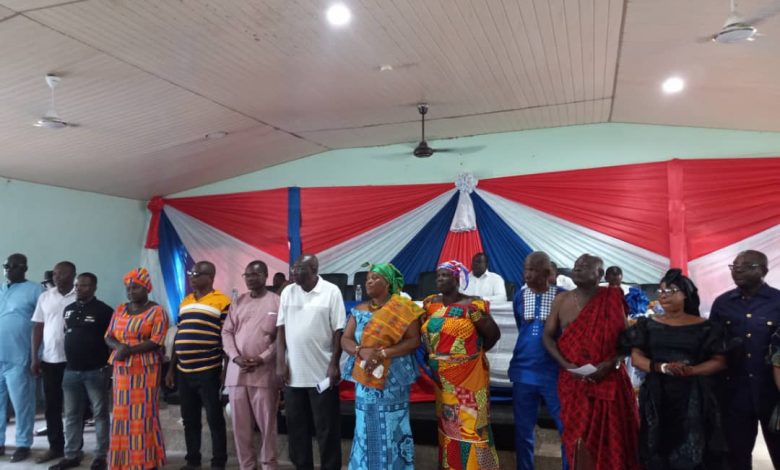 The Chairman for Abura Asebu Kwamankese(AAK) Constituency branch of the New Patriotic Party,  Mr. Obed Acquah Quansah has prophesied that NPP would win massively in 2024 general elections to shame critics, despite the economic challenges bedeviling the country.
He strongly believed that the ruling NPP will surely break the eight to make history in this country in spite of criticism by opposition parties.
Mr. Acquah Quansah who is known in politics as Chairman Obed charged all the NPP activists not to lose hope in the government but rather focus on the party's victory in the 2024 elections to make history.
Chairman Obed made this known when both the Central Regional and AAK NPP executives led by Chairman Obed inaugurated the Council of elders, patron, disciplinary and finance committees respectively in accordance with the party's constitution.
The inauguration coincided with the launch of the AKK Constituency welfare scheme to support needy party footsoldiers as well as party activities without relying on both Regional and National executives.
The Central Regional Organizer of the NPP, Mr. Anthony Kwesi Sackey urged the committee members to ensure they served the party with a sense of dedication and honesty.
He explained that the various committees were expected to assist the party to better prepare for elections and meet the needs of Ghanaians.
Mr. Kwesi Sackey appealed to the finance committees to use their position to solicit funds to make the scheme successful "because breaking the eight is all about money".
On her part, the Central Regional Women's Organizer, Madam Charlotte Adwoa Antwi observed NPP would set a record by breaking the eight.
She appealed to the party activists especially communicators to spread the government's laudable initiatives to Ghanaians "even at the funeral grounds to revive the spirit of NPP".
Source: Gnewsprime.com