General news
Central Region to Host 60th Anniversary of NAFAC
Story: Hajia Asana Gordon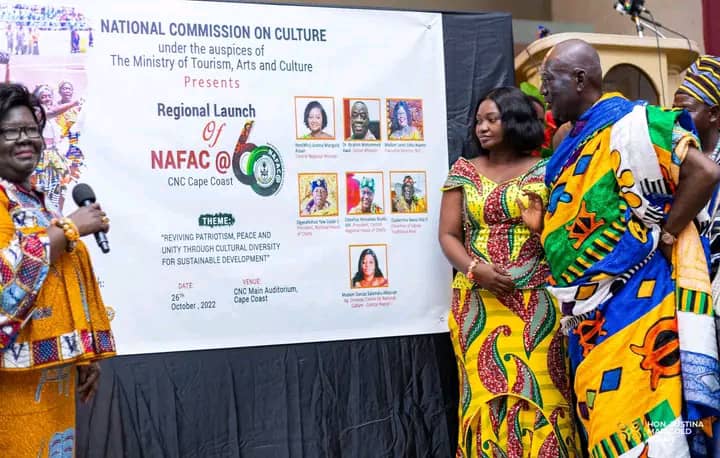 The Central Regional Minister, Mrs. Justina Marigold Assan has pledged her commitment to work closely with the Ministry of Tourism to ensure the success of the 60th anniversary of the National Festival of Arts and Culture which is expected to be hosted in the region.
The Minister made the call when the Executive Director of National Commission on Culture(CNC), Madam Janet Edna Nyame together with traditional authorities and some key Stakeholders stormed the Centre for National Culture in Cape Coast to officially launch the 60th anniversary of NAFAC.
It was held on the theme; "Reviving Patriotism, Peace and Unity through Cultural Diversity for Sustainable Development".
Mrs. Marigold Assan said NAFAC celebration served as a platform where different kinds of Ghanaian culture were exhibited.
"It is for a fact that any country that does not endeavour to preserve its culture is bound to fail because the people are likely to lose their identity and respect. It is in this regard that I commend the organizers, National Planning and the local organizing committees for putting together a celebration of NAFAC to rekindle and preserve our cultural heritage and more", the Central Regional Minister said.
She mentioned that cultural diversity was a springboard for sustainable development for individuals and the society as a whole.
The Executive Director of National Commission on Culture, Madam Edna Nyame applauded the Commission for keeping NAFAC Festival for the past 60 years.
"We have tried so hard to keep NAFAC and made it more vibrant and attractive against the assertion that NAFAC has lost its enthusiasm" she observed.
"Let me underscore the fact that as a nation, we can only make progress and be recognized amongst our peers, when we take what belongs to us seriously, package it well and present it to others" Madam Edna Nyame added.
Madam Edna Nyame believed that when NAFAC was raised to an international status, it would lead to a sustainable improvement in its celebration thereby creating opportunities for Ghana to generate some revenue.
Source: Gnewsprime.com