General news
Assin Adiembra: Renewed Chieftaincy clash injures two persons
Story: Kwame Owusu Asante Shadrack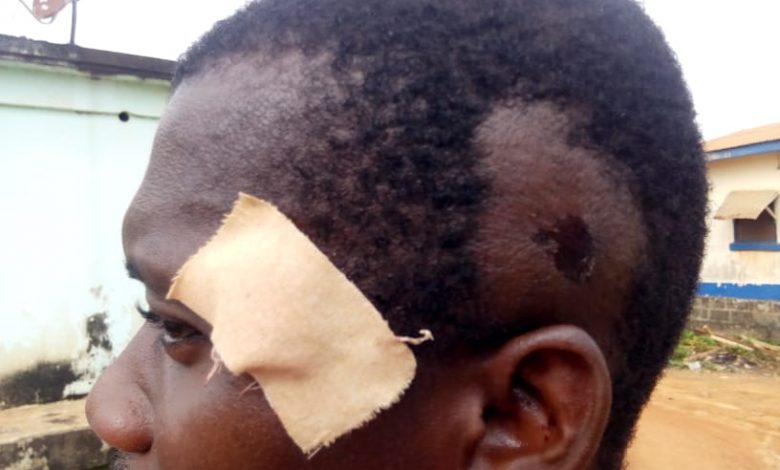 Two persons have sustained severe injuries, as a result of a renewed chieftaincy clash at Assin Adiembra in the Assin South District of the Central Region.
The victims who suffered various degrees of injuries were on admission at the St. Francis Xavier Hospital in Assin Fosu as at the time of filing this report.
They are; Kwame Mintah 36, and Kwabena Nyame 40.
Nana Mintah Abu, Ankobiahene of Assin Adiembra explained to Rich Fm and Angel TV/FM Reporter Kwame Owusu Asante Shadrack that the violence erupted after some persons from the other  chieftaincy devide attempted to attack the Acting President of Atandansu Traditional Council, Oseadeayor Kwantwi Barima II with a metal bar when he paid a courtesy call on the bereaved family of the late Nana Nkrumah Seku Brempong IV.
A team of police officials from the Assin Fosu Divisional Command was dispatched to the scene to restore calm.
Meanwhile the purported metal bar which was allegedly used to attack the chief was retrieved and same was kept as an exhibit.
The Police Commander for the Assin Fosu Municipality, Chief Superintendent Cephas Arthur confirmed the issue and added that an investigation has been launched into the matter.
The injured in an interview however stated that it was never true they were going to attack the chief with the metal bar but it was being used to make a cocoa sword.
They again said "the angry well built men numbering about 30 suddenly pounced on us by the roadside with cement blocks and other objects when we were heading towards our houses. We were not even close to where the chief was".
"They see those who are not on the side of the chief as enemies, that is why they did that", they lamented.
They, therefore, called on the police and other security agencies to as a matter of urgency intervene to give them protection since their lives are under serious threat.
Source: Gnewsprime.com
Thanks for reading.
Please, if you find the story interesting, do share for others to benefit.
Let's hear from you on ginapps33@gmail.com
You can as well leave a Comment at the comment section.