Business
General news
UCC to become an entrepreneurial University globally- Dr. Karen
Story: Hajia Asana Gordon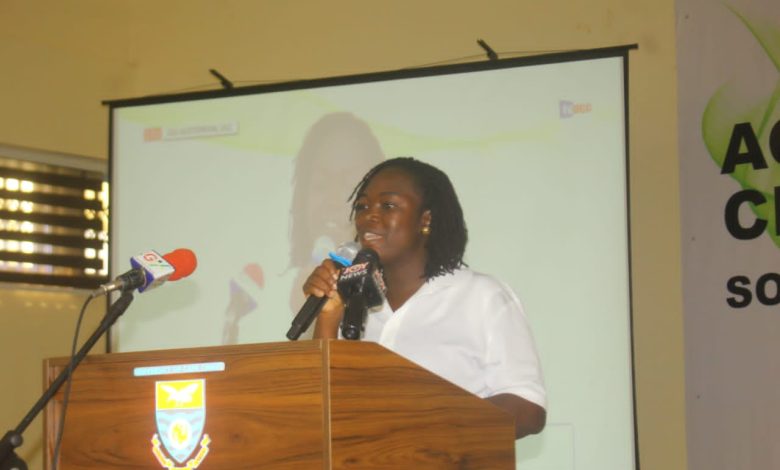 The Director of Design, Thinking and Innovation Hub of the University of Cape Coast(UCC), Dr. Keren Naa Abeka Arthur has announced that UCC is aiming to become an entrepreneurial University globally.
According to her, "this would support and motivate students to become successful job creators and entrepreneurs".
Speaking to the media shortly after the 2023 Kosmos Innovation Center(KIC) AgriTech Challenge Classic Competition,  held at UCC, Dr. Naa Abeka Arthur believed the competition would help the students to create their own businesses without looking for white collar jobs after school.
The Competition provides a platform for young entrepreneurs to showcase their innovative ideas and businesses and compete for funding support, while receiving skills that help them develop their business modules and strategies.
About ten academic institutions including UCC and Takoradi Technical University benefited from the programme.
According to Dr Karen, "Kosmos innovation centre has resources and the University of Cape Coast has the expertise to achieve results.
"Currently we have a team that are working on the use of technology to preserve fruits and vegetables and coming up with innovative fertilizer for farmers" Dr. Abeka Arthur.
She therefore mentioned innovative programmes that the University of Cape Coast was embarking on, including Agric and technology.
According to her, "in this particular competition we have ideas that expand Agric Value Chain from those providing technology to help farmers and those who are actually providing training as well as providing alternative livelihood, innovative processes as well".
The Entrepreneurial Development Specialist at KOSMOS Innovation Centre(KIC), Mr. Ato Ulzen- Appiah stated that KIC was training, transforming and supporting  young entrepreneurs from Universities, that are working within that space.