General news
Stop collapsing NHIS – NHIS Boss warns pharmacists
Story: Asana Gordon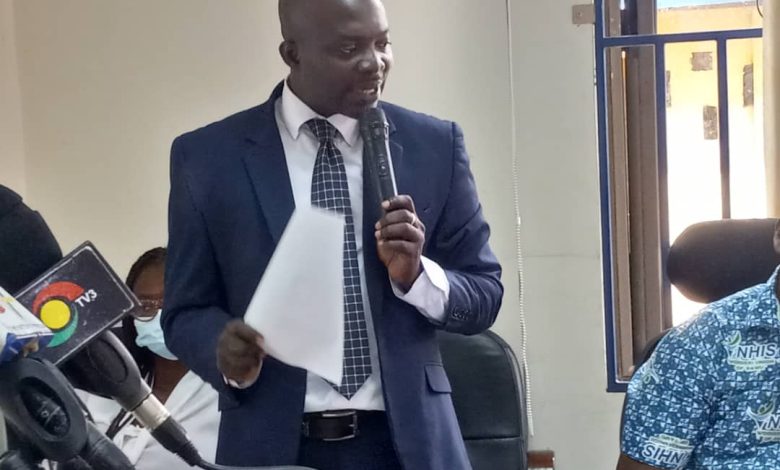 The Central Regional Director of the National Health Insurance Authority(NHIA), Mr. Fred Appiah has cautioned pharmacists to refrain from demanding illegal money from holders of NHIS valid cards to pay for services and medicines covered by the scheme.
He again warned them to stop collapsing the Scheme with such behaviour and rather educate members of the scheme on medicines that are not covered by the scheme.
"During my monitoring, some NHIS members complained bitterly that  some pharmacists demand money 'top up' from them before giving the members medicines",  Mr. Appiah fumed.
'I am warning them to stop as soon as possible and once they stop our members will have confidence in the system and continue to renew their cards yearly to help the scheme to achieve universal healthcare" he stressed.
Mr. Appiah dropped this hint when he met Regional Operations and district managers of the Scheme as part of the celebration of the NHIS active Monty with a call on them to come up with the best practices and strategies that will enable them to achieve their targets.
Touching on the NHIS Ghana card linkage, he stated that over five million members of the NHIS have been linked to their Ghana Cards to enable them to use the Ghana card to access healthcare.
Mr. Appiah believed when all members of the Scheme are linked to their Ghana cards, all NHIS cards will be phased out and the Ghana card will be the sole card for accessing healthcare services in the approved healthcare facilities.
"Over 16 million people are active members of the scheme, representing 54% of the population, an increase from 40% in 2019. Out of this number, over 80% are old members who used the mobile application to renew their membership" Mr. Appiah said.
Source: Gnewsprime.com