General news
Politics
NPP is keeping money to win elections but we will snatch power with unity- NDC Chairman
Story: Hajia Asana Gordon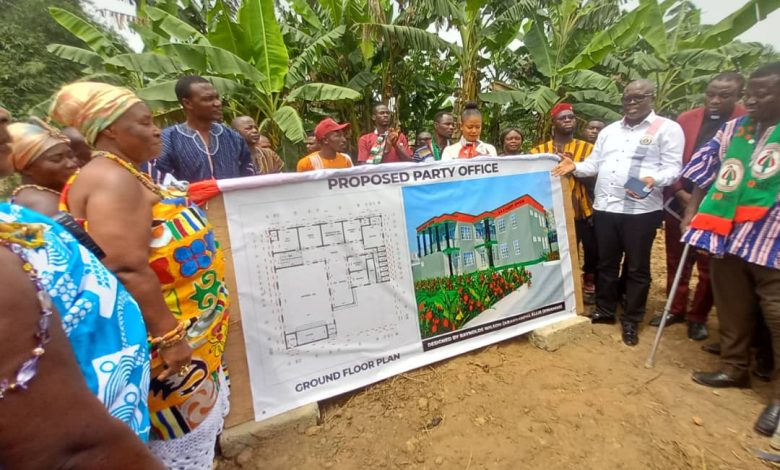 The Central Regional Chairman of the opposition National Democratic Congress(NDC), Prof Richard Kofi Asiedu has hinted that "the governing New Patriotic Party(NPP) is keeping money to influence voters in order to win the 2024 parliamentary and presidential elections but NDC will snatch the seat with unity".
"NPP will use huge sum of money  in the 2024 general elections to buy votes from electrotrates but will lose massively in both parliamentary and presidential elections because voters will collect the money and vote against the ruling party" he disclosed.
Prof Kofi Asiedu dropped this hint at a sod cutting ceremony to construct an ultra modern party office at Abura Asebu Kwamankese(AKK) constituency as part of the Central Region NDC's operation 20 parliamentary seats.
He called on Ghanaians, especially NDC members to come together as "one umbrella" to work hard for the party to win power come 2024 general elections.
"Removing NPP from power is a Communal Labour and not only party executives and I strongly believe NDC is moving forward for Victory" Prof Kofi Asiedu charged.
He advised all NDC members including executives of the party to never scam or defraud anyone in the name of the NDC.
Doing so, he said, would amount to  sanction or expulsion from the party.
"The negative nature of your action and attitude will have a negative effect on the party", Prof Kofi Asiedu stated.
On her part, a Senior Lecturer at the University of Ghana, Department of Physics, Prof Nana Ama Browne Klutse, who is eyeing the Abura Asebu Kwamankese(AKK) constituency parliamentary seat supported the party with 50 bags of cements towards the construction of the party office.
Prof Browne Klutse appealed to NDC members to forgive one another and join hands to win AAK seat as well as more seats in the Central Region and the country at large.
Touching on the NDC Parliamentary and presidential primaries slated for 13th May, 2023, the Central Regional Secretary of the NDC, Mr. Gabriel Nii Kommey said his executives would not disqualify any candidate and promised to conduct free and fair elections to bring unity during and after the elections.
He cautioned all NDC executives to desist from endorsing or campaigning for any parliamentary aspirant.
Source: Gnewsprime.com