General news
Merck Foundation "More Than A Mother" 2022 Awards: Georgina Appiah grabs First Prize for online category in West Africa
Story: GEORGINA APPIAH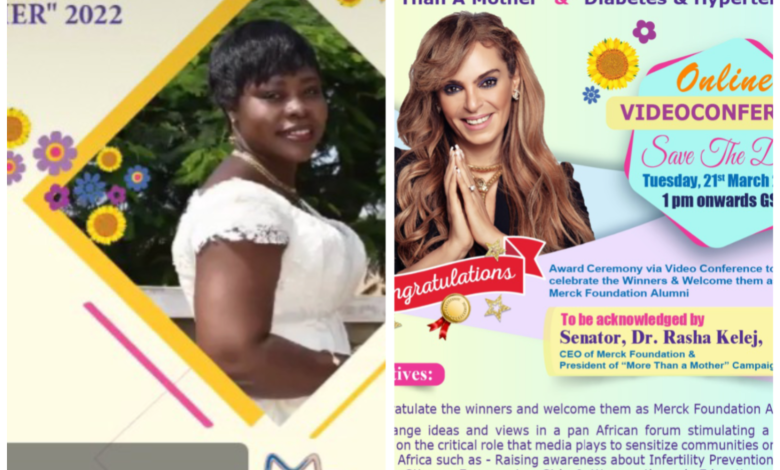 Gnewsprime.com's Georgina Appiah emerged the West African first Prize Winner for the online category of the Merck Foundation Media Recognition Awards 2022 on the topic; "More Than A Mother", which sought to highlight issues on Gender Based Violence (GBV), Child Marriage, Infertility stigma, supporting girl education, women empowerment and FGM among others.
The former employee of Citi FM in Ghana received the recognition following stories published on GBV and Child marriage issues on citinewsroom.com.
The story on Gender Based Violence touched on how Culture had impacted GBV in diverse ways.
On child marriage, the story chronicled how poverty had accounted for adolescent pregnancy and child marriages in parts of Central Region of Ghana.
The 2022 Merck Foundation Media Recognition Awards also honoured stories on "Diabetes and Hypertension".
Eighty-four (84) journalists from twenty-one (21) countries received various categories of awards, including Print, Online, Television and Radio.
Awardees would receive certificate and a cash amount of USD 500.
Merck Foundation is the philanthropic arm of Merck KGaA, Germany that aims to improve the health and wellbeing of people and advance their lives through science and technology.
Merck Foundation "More Than a Mother" platform is a movement that aims to empower infertile and childless women through access to information, education and change of mindset.
The Foundation in collaboration with African First Ladies and women leaders has initiated a cultural shift to de-stigmatize infertility at all levels, and as such creating awareness on Fertility issues.
Speaking at the awards ceremony organized online, the Chief Executive of Merck Foundation, Senator Dr. Rasha Kelej congratulated the awardees for their effort.
She urged them to continue to  be the voice of the voiceless and break the silence on the issues they were awarded for, such as Diabetes and Hypertension, all forms of Gender Based violence among others to create a change in society.
Dr Rasha Kelej revealed that "awardees would have access to their individual website for a master course in media training".
Source: Gnewsprime.com