General news
Popular gay rights activist, Davis Mac Iyalla installed as Amankorehen of Yamonransa
Story: Shirley Asiedu- Addo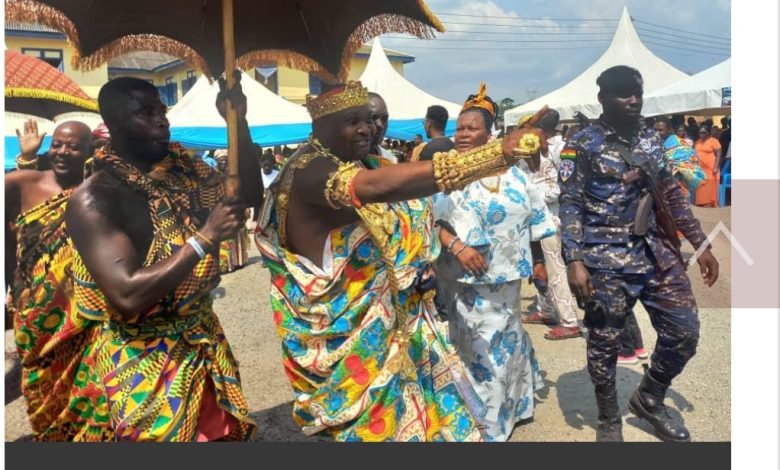 Popular gay rights activist, Davis Mac Iyalla has been installed as Amankorehen of the Yamonransa Nkusukum Traditional Area in the Central Region of Ghana.
He has thus pledged to fight for human rights.
The Amankorehen is the Development chief who usually promotes activities that accelerates the development of an area and it is usually given to persons, and even foreigners who have contributed to the development of a community.
Iyalla was installed by the Omanhen and President of Nkusukum Traditional Area, Nana Okese Essandoh IX,
under the stool name Nana Kwesi Gyasi I.
The ceremony was attended by several traditional authorities from Osu in Accra, Elmina, Mankessim and Cape Coast.
There was police presence to ensure peace during the procession through the street.
On reaching the grounds, Nana Gyasi together with the paramount chief Nana Okese Esandoh held a meeting with the police officials.
After close to an hour in that engagement the chiefs came to the durbar grounds to continue with the proceedings but with an amended programme lineup.
The swearing of oath of allegiance to the Omahen in state on the initial programme lineup was cancelled.
Nana Okese Esandoh thanked all who came for the outdooring ceremony.
In his speech, Nana Esandoh called on all to come together to move the community's development forward.
Iyalla in his address said he had completed all traditional formalities that now makes him a chief.
He said he was born in Nigerian but now a British citizen saying by "the grace of God I practice what I preach and that is human rights for all persons. I don't believe in discrimination. Whether you are tall, short black, white, yellow or green you are a human being and I will fight for that my belief to the very end. No matter what it cost me. I am not a hypocrite and I will not start now to be a hypocrite. You don't need to like me but you have to respect my views," he stated.
Source: graphic.com.gh