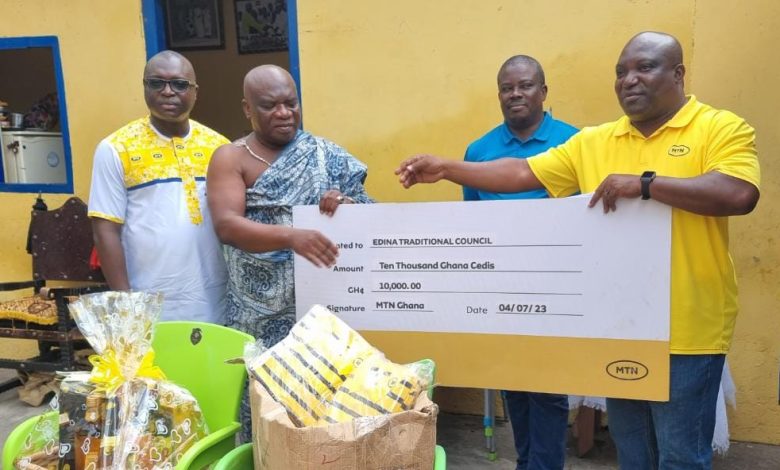 MTN Ghana has presented a cash amount of GHC10,000 to the Edina Traditional Council as part of the company's support to the on going Bakaue Festival celebrated by the chiefs and people of Edina Traditional Area.
The Company subsequently donated GHC 15,000 towards the regatta (canoe racing) which was held on Tuesday, as part of activities preceding the climax of the Festival.
According to MTN Ghana, the support was part of it's social responsibility.
The Central Regional Sales Manager for MTN, Francis Gyang, who represented the South-west Senior Manager for MTN, Prince Owusu Nyarko indicated that "the Company strives to promote made in Ghana goods and services", hence, supporting the country in diverse ways including festivals.
"We have invested in Ghanaian products and services that can boost our economy and support our people. We pledge to continuously  contribute to the creation of jobs by buying and using made in Ghana goods", Prince Owusu Nyarko emphasized in a statement read on his behalf.
He noted that the gesture was also to show appreciation for the long-standing friendship between MTN and the Traditional Council.
"We hope it will serve as a reminder of the importance we place on keeping this bond alive and strong".
"Our promise is to do whatever we can to enhance the lives of our people and ensure they have the best resources to meet their needs", Mr Owusu Nyarko maintained.
He mentioned that the Company would fully participate in the festivities by bringing its products and services closer to the people.
The South-west Senior Manager for MTN encouraged everyone in the Traditional Area to visit the stands of MTN for all their customer service needs and give feedback.
Gnewsprime.com