General news
4 Soldiers, immigration officer and private security man remanded for alleged robbery
Source: Graphic Online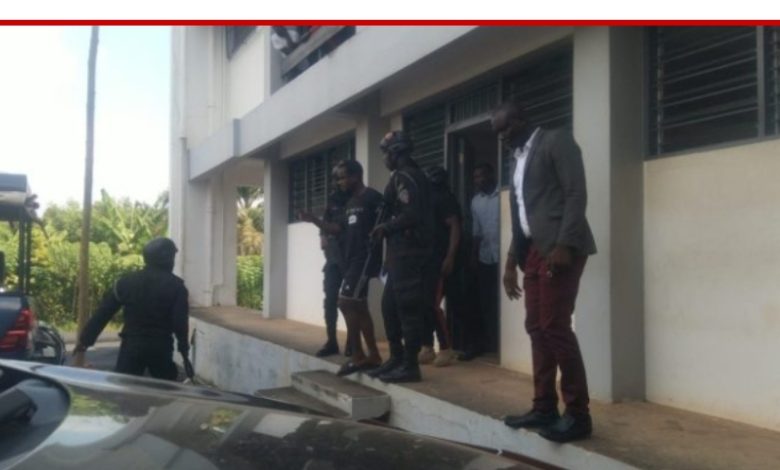 Four soldiers, an immigration officer, and a private security man arrested for their alleged involvement in a robbery at Akyem Akanteng in the Lower West Akim Municipality of the Eastern Region have been remanded in police custody by the Koforidua Circuit Court B.
While two of the soldiers are reportedly stationed at the Jubilee House in Accra, one is said to be stationed in at ABF at Tamale command Unit and the other one stationed at 11 Mechanised Infantry Battalion in Accra.
The immigration officer on his part is said tobe stationed at the Ministry of Interior while the private security man is said to be working with mining company at Akyem Akwatia.
In court, the prosecution said the immigration officer was in charge of a Mitsubishi L200 with registration number GS 1116 – 11 on November 10, 2023 and reportedly picked up the two military officers at their duty post at the Jubilee House before proceeding to pick up the other two military men at Pokuase and the last suspect at Asamankese before heading to Akyem Akanteng.
At about 3:00 am on November 11, 2023, the accused persons armed with military rifles and in military uniforms reportedly invaded the home of the complainant, a 55-year-old cocoa purchasing clerk at Akyem Akanteng, who the prosecution named as Samuel Ofori.
They reportedly demanded GH¢100,000 from the complainant amidst death threats.
The complainant who was frightened by the weapons explained he had no money but rather could offer them GH¢10,000 cash which may be raised after selling a 5 gram of gold ore that was in his possession valued at GH¢29,000.
The accused persons reportedly then pushed the complainant inside his room, took the gold and drove off.
The complainant immediately called the Akwatia Police Commander and a police officer at Osenase to inform them about the robbery incident.
The accused persons were apprehended by the police upon reaching the Osenase police checkpoint.
Two military rifles with serial numbers – A0082460, A0056937, four magazines, 62 rounds of live ammunition, and a helmet were retrieved from the accused persons after they were taken to the Akwatia Police Station.
According to the prosecution, during interrogation by the District Commander in the presence of other policemen, the first accused person handed over the gold ore which the complainant earlier reported had been taken away from him by the accused persons to the commander.
The docket was taken over by the Regional Criminal Investigations Department together with the exhibits for further investigations the same day.
Meanwhile, the Mitsubishi L200 with registration number GS 1116-11, which was used by the accused persons has been impounded at the forecourt of the Eastern South Regional headquarters for further action.
The prosecution added that on receipt of the case docket, all the various Departments of the accused persons were informed accordingly.
Graphic Online