General news
We prefer 'Dumsor' to total darkness- Chief admonishes
Story: Hajia Asana Gordon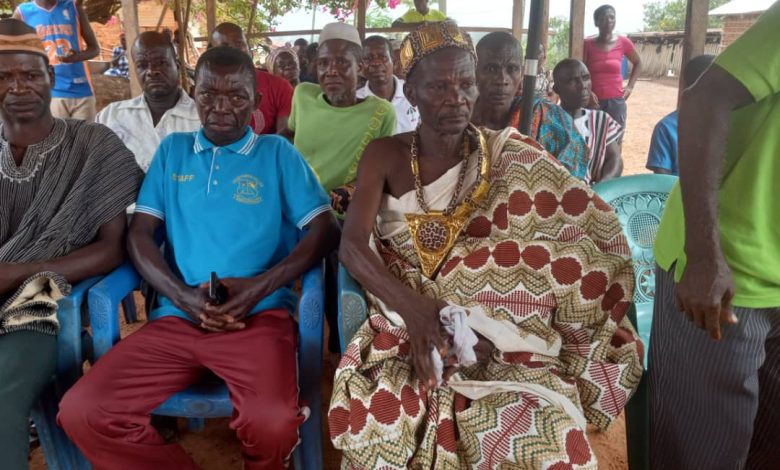 The Chief of Mirekukrom in the Twifo Atti-Morkwa District of the Central Region of Ghana, Nana Mireku Ababio has appealed to the government to connect Mirekukrom, Temtemhwe among  other adjoining communities to the national grid.
He indicated that they would be better off in 'dumsor' than to live without Electricity.
"My people are in darkness and are suffering so we even prefer Dumsor than to have no light", he disclosed.
Nana Ababio revealed that residents within his locality had never seen light nor drunk potable water since 1985 and as a result, a lot of teachers posted to the area refused to go.
Nana Ababio stated this, when he interacted with the media in Mirekukrom.
He touched on roads and charged President Nana Addo Dankwa Akuafo Addo "to matter of urgency fix the dilapidated roads in his (Nana Ababio) area before his (Nana Addo) tenure of office expires".
He warned the ruling New Patriotic Party(NPP) not to step the area to campaign, unless their needs had been met.
Nana Ababio stated that people in the area were predominantly farmers and the bad road network had become a major challenge affecting farming in the area.
The Assembly Member of  Jatokrom Krobo number 2 Electoral Area, Francis Dotse Kudiaboor said several letters were sent to the Twifo Atti-Morkwa District Assembly to fix the deplorable roads but no action was taken.
He revealed that no commercial vehicle plied the road due to the bad nature of the road and that motor riders who used the road charged 40 cedis per person.
Mr. Dotse Kudiaboor revealed that pregnant women were forced to trek to the hospital for treatment and sometimes, some babies had to be delivered in cars, resulting in loss of lives.
Source: Gnewsprime.com