Environment
Fighting against environmental challenges: Traditional Authorities asked to revive revered spirits
Story: Hajia Asana Gordon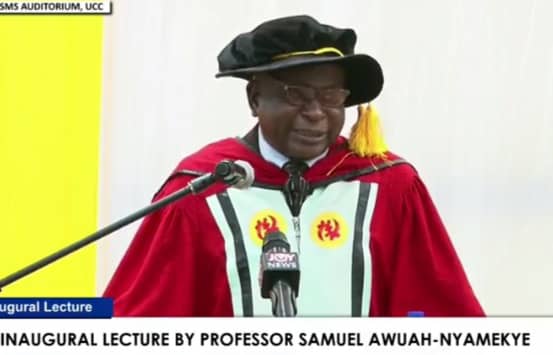 A Professor of Religion and Environment at the University of Cape Coast, Prof Samuel Awuah-Nyamekye has appealed to  traditional authorities to revive revered spirits of old to help the fight against the current environmental challenges facing the country.
"Today we have Forestry Commission people, police personnel, Military but people are mining in the rivers and even hunting where they would not have hunted in the olden days due to traditional beliefs. Chiefs were the representatives of the accesstors so anything that came from their mouth was from 'Nananom' and that was able to sustain society", according to the University Don.
"On every sacred day like  Akwasidae, chiefs should remind their subjects of the need to conserve or preserve our environment", Prof Awuah-Nyamekye stated.
He made the call during his inaugural lecture at the University of Cape Coast, which attracted some Ministers of state, a Member of Parliament(MP) as well as Professors from the UCC among other dignitaries.
The Professor of Environment spoke on the topic: "The nexus between religion and environment: Matters Arising".
Prof Awuah-Nyamekye called on all hands on deck in the fight against the current environmental challenges the country is facing.
He tasked  Christians and Muslims to liaise with traditional authorities to discuss how they can collectively preserve the environment in a sustainable way, rather than tagging one's ways of conserving nature as idolatry.
He again charged Pastors and preachers to devote at least five minutes of their allotted time for preaching to talk about the environment.
Doing this, according to him would go a long way to affect the environment positively.
Prof Awuah-Nyamekye quoted from the Bible that "In Genesis 2:15, God placed man in the garden of Eden and gave him the mandate to work on the land and to take care of it".
According to the professor of Religion and Environment, measures should be put in place to integrate religious environmentalism and its closest sub-field environmental ethics into the educational curricula for the youth to appreciate the need to conserve the environment.
Prof Awuah-Nyamekye strongly believed the country needs religion in the fight against ecological problem.
Source: Gnewsprime.com