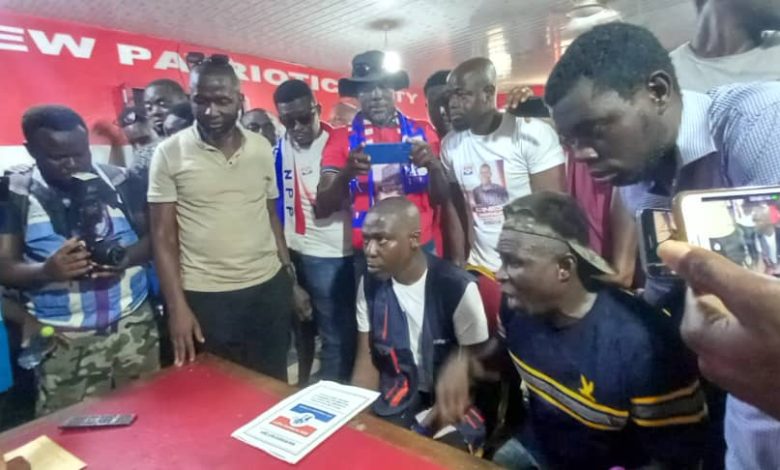 The Metropolitan Chief Executive(MCE) for Cape Coast, Mr. Ernest Arthur is poised to unseat the incumbent Member of Parliament for Cape Coast South, Mr. George Kweku Ricketts-Hagan in the 2024 general elections, if delegates of the NPP give him the nod.
"If the delegates give me the chance to lead the party ahead of the 2024 parliamentary elections, I will unseat Kweku Ricketts Hagan", Mr. Arthur claimed.
The MCE, who contested Kweku Ricketts in the 2020 elections and lost, vowed to win hands down in 2024, if he had the opportunity to lead his party.
Addressing the media after filing his nomination forms, which saw a massive float by delegates, supporters and friends to the Cape Coast party office, Ernest Arthur said the three term incumbent MP, Ricketts-Hagan did not deserve another term because he had disappointed the constituents.
The MCE, who was the first aspirant to have picked and submitted his nomination forms said "a journey of a thousand miles begins with a step", hence his decision to contest for the parliamentary primaries.
According to him, he's yet do more work on the grounds to win the seat this time around for his party.
He said he was working tirelessly to correct every error that resulted in his defeat in the 2020 parliamentary elections.
Mr. Arthur said he would never disappoint the people of Cape Coast South, if he had the opportunity to serve as a Member of Parliament for the Constituency.
He therefore called for Unity before and after the parliamentary primaries to enable the party win the Cape Coast South Constituency seat.
"As a Mayor for the Cape Coast Metropolitan Assembly, I have released MP's common fund for the two main MPs in both Cape Coast North and South constituencies, yet the constituents cannot point at one single project the MPs have used their Common fund for".
"We are therefore appealing to the incumbent to step aside for me to take over and I believe I will surely be sworn in as the MP for Cape Coast South after the general elections", Mr. Arthur declared.
Gnewsprime.com